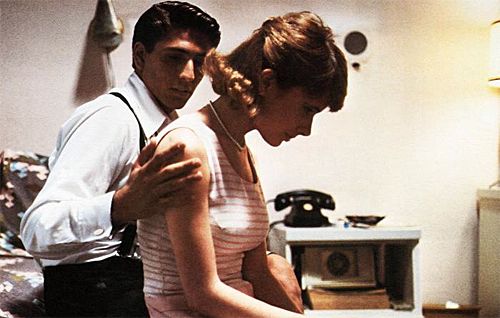 Baby It's You (1983)
★★★★ / ★★★★
As Jill (Rosanna Arquette) made her way through passing period with her girlfriends, she bumped into Albert (Vincent Spano), nicknamed "Sheik," a recent transfer from another school. Right away, she noticed his good looks and sharp attire, which incited a second glance from her, but it was he who found himself unable to take his eyes off her. During lunch, Sheik approached and boldly asked Jill out on a date. Jill brushed him off. After all, what could the most promising aspiring actress in school get out of dating a guy who people considered a thug? Based on the story by Amy Robinson and screenplay by John Sayles, while "Baby It's You" took place in a high school in 1960s Trenton, New Jersey, it wasn't so much about school and the alienation that came with it than about how one young woman tried to deal with the expectations imposed upon her by her parents and teachers while quenching her soul's thirst for excitement in a form of a young man capable of bringing just enough danger to threaten but not derail her future. I liked that their flirtatious interactions had a tenderness to them even before they decided to become exclusive. As he towered over the girl he adored, she looked up at him as if he were a prize and we could almost feel how proud she was–but not cocky–to be with the most attractive guy in school. In turn, it was interesting to listen to what Jill's friends had to say about them as a couple because at times it revealed just enough for us to detect a whiff of jealousy in the comments. I enjoyed getting to know Jill and Sheik because the writing bothered enough to go beyond surface characteristics by revealing their backgrounds, values, and insecurities through organic dialogue in which wit and foibles were not sacrificed. The first half intelligently dedicated its time exploring what Jill and Sheik needed from each other and why, in some ways, they were a good fit. Although they were pretty much opposites in every way, especially in terms of temperament, they had a way of knowing each other's limits. In turn, when things got bad, they knew exactly which buttons to push to drive one another over the edge. That level of honesty persisted through a more complex second half when Jill attended an all-girls college to hone her acting skills. As someone who was used to being at the top of the pack in high school, Jill learned that success in high school was not necessarily indicative of one's success in the university. One of the scenes I found most moving was Jill's letter to her parents where Jill evaluated her experience with classes, people she met, as well as personal and professional goals. There was a sadness in her words and a feigned strength surely designed to protect her parents from worrying. I found myself relating to her most during that moment because when I was away in college, there were times when I didn't feel like I was performing on a level that I knew I could deliver. Parents being concerned bred guilt–another emotion on already heavy shoulders. Unlike the glossier first half, the reconnection between Jill and Sheik placed more emphasis on their struggles because they were so different. There was a poignancy to it because it asked the difference between romantic love and a love that comes with a friendship. When is it all right to move on from another so that both parties can still salvage what's left of a relationship? Directed by John Sayles, "Baby It's You" captured the progression of adolescence and growing up. It balanced sensitivity and insight alongside stylish cars, chic fashion, and foot-tapping music.

Mean Streets (1973)
★★★★ / ★★★★
The thing I like most about Martin Scorsese's films is that he always gives his audiences the full package: great ear for dialogue, main characters that are very conflicted, astute use of color and settings that reflect a particular mood or attitude. This is one of the finest examples of Scorsese's amazing career as a director. Harvey Keitel is wonderful to watch as a man who wants to acquire a respectable reputation in a mob in New York City's Little Italy. However, his loyatly is torn in many different directions: the mob boss (Cesare Danova), his girlfriend (Amy Robinson), the church and his best friend (Robert De Niro). Keitel's character is a man who wants to please everybody to the point where he ends up having too many worries in his mind. Those unfinished business that run about in his head breed frustration and anger inside him until he can no longer make everyone happy. However, this is not the kind of film that aims to teach audiences a valuable life lesson. Its goal is to simply observe this one man trying to keep his head above water while sharks surround him. My favorite scenes in this picture are all of the scenes when Keitel and De Niro would talk to each other. Each scene that they have whenever it's just the two of them is so crucial because both of them reveal something that the audiences don't know about them–usually something that is hidden whenever they're around "tough guys" that run all over Little Italy. Some of the scenes really touched me because even though they are best friends that experience all the ups and downs, they're more like brothers to each other. Even though De Niro's character is irresponsible and immature, it's not hard to tell that he loves Keitel unconditionally. On the outside, people may label this as a gangster film because of all the swagger of each character, but I consider this an ultimate character study. I admired Scorsese's use of camera angles and quick cuts because they add to the movie's overall feel. This film, without a doubt, influenced some of Quentin Tarantino's best work such as "Reservoir Dogs" and "Pulp Fiction." So if you enjoyed those pictures, you're most likely going to enjoy "Mean Streets." I would like to see De Niro, Keitel and Scorsese team up in a modern film to see how much their chemistry has changed.