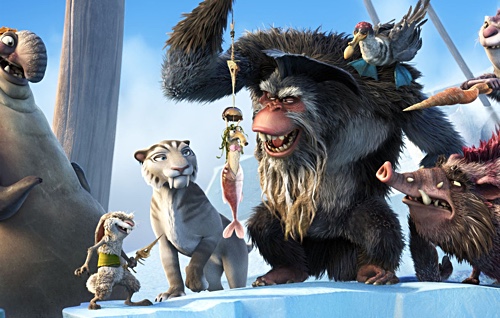 Ice Age: Continental Drift (2012)
★★★ / ★★★★
In his never-ending quest to secure the perfect acorn, Scrat (voiced by Chris Wedge in the cutest grunts and various expressions of surprise) manages to fall into the Earth's core and accidentally triggers extremely fast tectonic shifts that eventually leads to the formation of the seven continents. The sudden movement of land masses separates Manny (Ray Romano) from his family, Ellie (Queen Latifah) and Peaches (Keke Palmer), and the only way for them to reunite is to catch a specific current. However, the mission is made more difficult when Captain Gutt (Peter Dinklage), a power-hungry ape, and his motley crew seize Manny and his friends to try to force them to join piracy.
Based on the screenplay by Michael Berg and Jason Fuchs, credit must be given to "Ice Age: Continental Drift" for still trying to be creative with its images and dialogue despite being the fourth film of the series. It provides a fun, harmless adventure for children and kids-at-heart who like to watch extinct animals interact and get into all sorts of trouble.
The picture balances slapstick humor with lines of dialogue propelled by great delivery. Although the characters we are more familiar with do not break any new ground, so to speak, the new ones are welcome additions because each has a distinct personality coupled with jokes specific to their species and why they did not survive over time such as anatomical structures that simply do not match the changing environment. The voices behind the animation are present and excited even if they are playing a villain. There is often a danger of being one-note from wanting to be taken seriously. Instead, there is an equal mix of menace and joy so it is enjoyable to hear all of the characters speak.
The images grab our attention especially during its action sequences. As an alternative from showing us a pirate vessel that we come to expect, Captain Gutt's ship is a huge chunk of ice. It looks sturdier than a typical ship with rotting insides, masts, and sails. Meanwhile, the battle scenes between the good guys and bad guys are allowed to unfold with feverish energy. I highly enjoyed looking at the weapons utilized by the pirates. For example, since they are pirates, most of us expect them to use arrows and swords. They do not. When the weapons make contact with wood or ice, the camera lingers for a second at what has just been thrown or swung and we are reminded of how much our brains rely on archetypes.
What works less effectively is Peaches' struggle to be accepted by a crew of mammoths, one of which is her crush. The lesson about friendship and staying true to oneself are not only preachy, they lack any special dramatic gravity because such scenes are inconveniently inserted between Manny and the pirates. When it comes to the pirates, Shira (Jennifer Lopez), a sabertooth, is predictably played as the eventual romantic interest of Diego (Denis Leary). Their subplot traverses similar elements from the first film about belonging to a pack versus a herd. Whenever Peaches and Shira are front and center, the story feels slow and the immediacy of the action is lessened, respectively.
It is easy to feel cynical toward "Ice Age: Continental Drift," directed by Steve Martino and Mike Thurmeier, because one might think a fourth entry is tantamount to cashing in. On the contrary, the images are more alive than ever even though select aspects of its story could have been sharpened or given more originality.