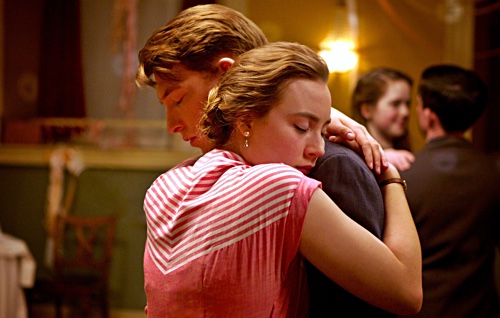 Brooklyn (2015)
★★★★ / ★★★★
"Brooklyn," based on the screenplay by Nick Hornby and directed by John Crowley, is able to capture a specific immigrant experience so successfully, just about every moment is honest, yearning, and earned. The story will connect strongest with those who, like myself, have gone through the need to adapt to another place, another land, another way of life.
It could have been just another story of a young, naive girl who moved to America from Ireland and encountered individuals who looked down on her because she seemed provincial. Instead, the material is full of life, dimension, colors, feelings, and thoughts exactly because the writing takes on a humanist approach. It treats the characters like the complex humans that they are. The picture inspires the viewer to read Colm Tóibín's novel of the same name because the details are so rich, we want to know more about everybody on screen.
Notice the screenplay's fresh choices in terms of drawing the characters. The two girls we meet at a boarding house is an excellent example. The moment we meet them, we are meant to judge them rather harshly. Their clothes are flashy. They giggle a lot. They put on a lot of makeup and the every strand of hair is perfectly groomed. Their chosen topics of conversations point to the idea that maybe they are not particularly intelligent. We make the assumption that these girls are vapid, shallow, and mean—we are certain they will give Eilis (Saoirse Ronan), our protagonist, a difficult time during her already challenging transition.
Sometimes first impressions are most misleading. I loved that the two girls look and act like they do yet they are capable of kindness and are able to laugh at themselves. Over time, even though these are two tertiary characters, we realize something potentially important about them: perhaps they remember not being completely comfortable in a new world—which does not have to be a new country necessarily—where at times you are only as good as how others choose to perceive you, which is usually through the way you look.
The film excels in showing the details of a most heartfelt romantic connection. Saoirse Ronan and Emory Cohen, the latter playing an Italian who likes Irish girls, share chemistry that is so potent, so magnetic, I was reminded of the very first time I met Celine and Jesse in Richard Linklater's "Before Sunset." Each moment that Eilis and Tony share is one to be relished. Together, they have a way of communicating a sensual feeling by simply conversing, whether it be during an intimate dinner or walking down the street where life, noise, and hustle and bustle create a dance.
It is rare when a film shows human characters simply being human. We are complex creatures and yet today's mainstream pictures have a way of reducing us to caricatures. Not here. It understands what makes people interesting and so we can see ourselves, if we look closely enough, in just about every single character, not just one. And that is one of the goals of moviemaking: To allow audiences across the globe to try on different shoes, to become more aware of different cultures, lifestyles, and experiences, to open our eyes and realize that sometimes we are more connected than we and others have allowed ourselves to believe.