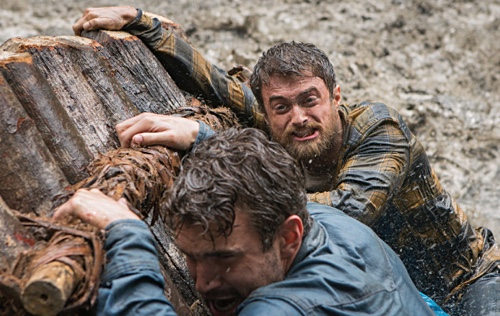 Jungle (2017)
★★★ / ★★★★
Based on a true story survived by Yossi Ghinsberg's harrowing ordeal in the Amazon rainforest in 1981, "Jungle" is a highly watchable picture, filled to the brim with horror, beauty, and curiosities that come with adventure. Although occasionally hindered by dramatic techniques, such as the utilization of repetitive hallucinations and sudden flashbacks, which lessen the raw power of being stuck in a life-threatening and increasingly impossible situation, the escalating tension and solid acting overcome its limitations.
Greg McLean directs the picture with an understanding of similar films from the 1970s in which the jungle is itself a character but not one that is meant to be conquered or comprehend. It is the correct decision to preserve its mystique. However, the filmmaker ensures that we are confronted by the place by focusing on its beauty, at least initially, and then shoving us suddenly so that are face-to-face with its many threats. The nature of the material forces the viewer to wonder if one could survive in the wilderness for weeks.
The picture is shot beautifully, particularly the wide shots of small villages where residents are shown simply going about their day. I enjoyed how the pacing takes its time so that the viewers can have an appreciation of a place. For example, we spend a good amount of time in the market where tourists frequent. As a result, we get to learn a bit about the relationships with locals and foreigners; what visitors choose to see, or do, or photograph; the wide selections of street foods; the wonderful cacophony of business as usual. It is teeming with life, so colorful that one can almost taste the various spices in the air, so the setting is most inviting. This serves a great contrast against the horrors about to unfold in the Amazon jungle.
Daniel Radcliffe plays the tourist Yossi, a young man whose parents expected him to attend university but instead deciding to take a year off to travel and experience what the world has to offer. Credit goes to casting director Ben Parkinson for selecting a character actor for the role. Because in order for the ordeal to be convincing, the performer must deliver a gamut of thoughts and emotions both during scenes of desolation and desperation as well as in how he connects with those he meets along the way (Alex Russell, Joel Jackson), kindred spirits who yearn for adventure outside of the familiar. A performer who always commits to his roles, I was surprised to have seen another side of Radcliffe's craft that I have not seen before. It makes me want to see him partake in more physically demanding roles.
The picture might have been stronger had screenwriter Justin Monjo found a way to communicate Yossi's psychological breakdown outside of the standard moments of delirium. Perhaps a fresher route is to have focused solely on behavior. We do not need to see inside person's mind when his actions clearly exhibit a level of increasing irrationality. An argument can be made that focusing on behavior is more terrifying because it leaves the remaining factors to the imagination. The heart of most survival pictures, after all, is horror.