Sicario: Day of the Soldado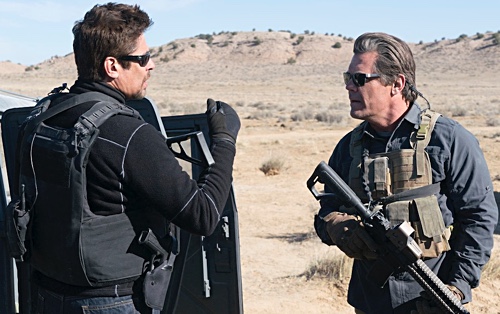 Sicario: Day of the Soldado (2018)
★★★ / ★★★★
The violence in "Sicario: Day of the Soldado" is so detailed, when a group of people on a pickup truck is shot with a submachine gun, particles of blood can be seen swimming in the dusty air. The camera lingers just enough so the thrill is turned into horror—a trait that separates the picture from standard action-thrillers that attempt to make a statement about the chess game of politics and the clandestine assignments that must be executed in order for the pieces to fall into place. Although not as strong as its predecessor, there is without question that the sequel is worth seeing, particularly by those who have become invested in the complex relationship between CIA agent Matt Graver (Josh Brolin) and black operative Alejandro Gillick (Benicio del Toro).
Particularly strong is the first half as Graver is given the task to start a war between the Mexican drug cartels when the United States government began to suspect that one of them transported Islamic terrorists across the border which resulted in a Texas store bombing. The viewers are asked to follow the plot through winding roads without many expository details regarding how and why certain things must be done. They simply must.
And yet—it is never confusing. There is a breezy flow and rhythm in Taylor Sheridan's top-notch screenplay that is highly reminiscent of the 2015 predecessor. It makes the point of respecting the audience's intelligence, attention span, and ability to follow multiple threads that are certain to collide with spectacularly brutal violence.
I enjoyed its restraint when it comes to the score and how it is used. Sometimes a solo cello is enough to underline the gravity of the situation, whether we are about to see an elaborate action sequence or when a man subtly looks at another a certain way. The skeletal but creepy score builds the mood without needing to push the viewer to feel a certain way. It does not need to when the powerful images speak for themselves.
Notice how shots are framed almost in an impersonal way. The aforementioned terrorist attack at a store is an excellent example as the camera remains a couple of feet outside of the building as three bombers enter the place of business, walk toward specific aisles, press the button, and explode. This is a smart direction by Stefano Sollima; he does not feel the need to place us into that store because with all the terrorist attacks in the U.S. today, which includes Americans who decide to pick up a gun and kill innocent people, it is more impactful to observe from the outside in. In a way, scenes such as this place us within those moments when we heard the breaking news or seen the news on television during or after such attacks.
Brolin and Del Toro are as captivating as they were in "Sicario." Their characters do not say much but their body language say more than enough. There is palpable tension in Graver and Gillick's fascinating relationship that is deeply rooted in respect, perhaps even admiration. Couple this with the nature of their occupations in which the equation can be changed at a drop of a hat, we wonder if these men would inevitably clash. And if they did, to what degree and would they be able to kill each other when absolutely necessary? Would we have to pick a side?
The film might have finished on a superior note had a minute or two been sliced off at the end. It is bizarre and uncharacteristic to turn our attention suddenly to a character who is far less interesting than Graver and Gillick. Perhaps the intention is to create a bridge between this installment and the next, but the spoon-fed information does not match the beauty of the story's intrigue and mystery, certainly not its savage tone. It might have been a wiser choice then to end the film on a desert road as a bloody vehicle slows down toward the side of the road and hits a post. It works as a metaphor, too.