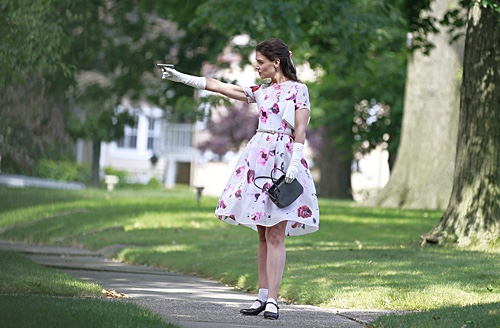 Miss Meadows (2014)
★ / ★★★★
Karen Leigh Hopkins' "Miss Meadows" is the kind of picture that leaves the audience completely baffled, perhaps even deeply frustrated, by the time it is over. Although obviously a character study of a woman with a fixed idea of what is right versus wrong and anything that challenges her beliefs drives her closer to the edge of madness, the material does not know whether it is a satirical dark comedy or a serious meditation of morality and of violence, how complex it is for one to have a code and one must live in a world that may not abide by such code.
What results is a misfire of a film project, one that comes across as embarrassed to dig deeply into human psychology and face the horrors of what is in front of us, the unconscious, and the subconscious. Notice how the title character, played Katie Holmes, is often reduced to behavior, immediately observable during the moment we meet her, even during personal and revealing moments. Although tears fall from the performer's communicative eyes, we simply do not believe the character's pain, suffering, and whatever she is going through. This is because the drama, even though it is willing to embrace hyperbole at times, is not rooted in any reality, let alone one that is relatable. There is a wall between the material and the audience.
The look of the picture is dull and uninviting—a miscalculation because some of the uneasy topics it brings up, like vigilante justice and mental health that goes unchecked, are already repellent. Perhaps a point can be made that the romance between Miss Meadows, a substitute grade school teacher, and the town's sheriff (James Badge Dale) is meant to be inviting because the performers share solid chemistry, but the script fails to take the relationship anywhere remotely interesting. The most tension it commands involves the cop possibly having to arrest his new romantic interest because she is a suspect to the recent murders around the neighborhood.
I looked at Holmes in this film and realized that it must be a passion project for her. She attempts to enrich the skeletal material by emoting to the point of near-satire but there is barely anything to work with. I watched the character closely and wondered if perhaps, given a far richer material, it would have been more intriguing had Miss Meadows' histrionics been downplayed, portrayed as someone who looks and acts "normal" when out in public but one who is revealed to be deeply disturbed the more we get to spend time with her. It certainly could have been a more haunting approach to paint the character this way. I appreciate, however, that Miss Meadows is not depicted as a clear-cut anti-heroine.
"Miss Meadows" offers misguided social commentary—and one that isn't even interesting. Long stretches of the project are downright boring, so tedious and repetitive that one is challenged not to look at the clock or check how many minutes left to be endured. Quirky or flashy behavior does not make a movie and this work is a prime example.