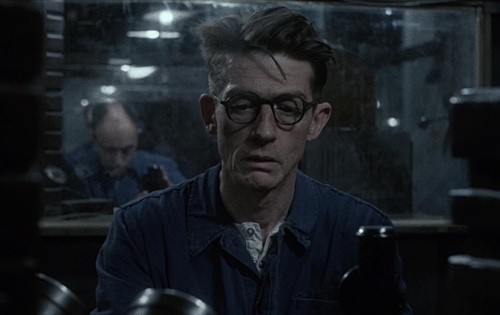 1984 (1984)
★★★★ / ★★★★
Despite living in a totalitarian state where independent thought is considered a crime, Winston Smith (John Hurt), whose job is to edit newspaper articles in accordance to what the Party tells him to alter, thereby rewriting history, keeps a journal, most of the time hidden behind a wall of his sleeping area, of his supposed transgressions. He is fully aware that if he were to get caught by the Thought Police, punishment would be severe.
Written and directed by Michael Radford, "Nineteen Eighty-Four" is an enveloping shroud of misery, a vision of a future so hopeless and fully realized that it is almost like we are Smith, hovering from above during his every day yearning to break out of the passionless routine.
It is appropriate that the color scheme of the picture looks denatured. Although we see colors that pop out against the boring gray, such as tranquil blue and celebratory red, they are more or less suppressed, muted as if even a color standing out can be considered by the state as a crime. When we are allowed to look inside Smith's dreams and fantasies, we feast our eyes on verdant green but is almost always interrupted by an unpleasant thing—almost as if we were a part of a behavior modification program.
The dialogue is minimal but it is used in great effect. Since Oceania's citizens are expected to behave like toy robots, the way they move collectively communicates more than lines being uttered. In the first scene, for instance, although people yell various proclamations and profanities at the screen, more attention is paid to the fact that they are in rage as a group. The anger is communicated not only in the sounds produced by their larynx but in the fire smoldering in their eyes and their potential to perform mass violence.
Conversely, when the picture does turn to one-on-one conversations between Smith and Julia (Suzanna Hamilton), his lover; Smith and O'Brien (Richard Burton), a member of the Inner Party who takes an interest in Smith's work; and Smith and Mr. Charrington (Cyril Cusack), owner of the pawnshop Smith visits frequently in search for remnants of the past that provides him evanescent hope, the interactions are filled to the brim with paranoia of getting caught. Hearing them speak at times feels like deciphering code. Although they use words we can easily understand, the intentions behind them are often obfuscated. It makes creates a taut and compelling experience because not only do we wonder how much the other really knows, we also cannot help but wish for Smith to be smart enough not to assume.
Based on the novel by George Orwell, "1984" may have messages about love but they are not lessons we come to expect. Love is used as an act of rebellion and to serve as reminder of one's fading humanity, not for the sake of making us feel good. Although some may spit at the film's several full-frontal nudity, it is never exploitative. In fact, it is very appropriate given that choosing to be naked in front of someone—and in front us an audience—accomplishes two things: a message of self-empowerment within the film's context as well as a critique against groups nowadays that are too quick to jump into the idea that all nudity is some sort of a moral crime without putting into consideration a work's artistic intent or merit.