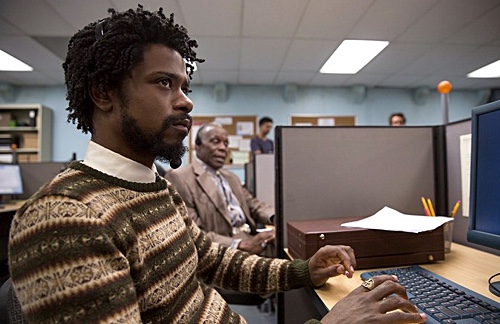 Sorry to Bother You (2018)
★★★ / ★★★★
One can tell that "Sorry to Bother You" is made by a first-time writer-director because it is willing to utilize a variety of techniques, from claymation and voiceovers to hallucinatory imagery and coming into contact with an entirely different genre, to get a range of laughs—big laughs—from the audience. Even though these tools do not always work, sometimes the courage to employ them is what counts because they shake the boredom out of some of the more familiar avenues of the plot, particularly in portraying the rift between our protagonist and his friends as he begins to climb the corporate ladder of telemarketing.
The picture is written and directed by Boots Riley who possess an exciting eye for detail. Shot on location in Oakland, California, he is willing to show the more unsightly areas of the city, how colors and life dominate even the poorest of neighborhoods. Graffitis on walls often have a political message, signs on the streets are clever, and even jewelries worn offer their own personalities. Notice how the extras who must utter a line or two of taunts while off-camera sound exactly like residents of Oakland. So, you see, although certain images are initially unattractive, like unmowed laws and unpicked garbage on sidewalks, there is beauty in its honesty and simplicity. The film is a comedy in which the setting is vibrant and real.
This is important because the material is a satire, often embracing extremes in order to deliver a punchline. The setting, more than the story or the performances, anchor the film in something that is true and relatable. And so when the plot and tone undergo wild fluctuations, viewers are less likely to feel lost, confused, or frustrated. Unlike Hollywood mainstream comedies without flavor or ambition, those designed solely to pass the time, perhaps a chuckle here and there, Riley's work is able to take big risks while retaining the viewers' interest.
It is a challenge to describe the plot without revealing its wonderful, bizarre surprises. It is best to dive into it blind. Just know that it starts off with a black man named Cassius (Lakeith Stanfield) who lands a job as a telemarketer. He discovers that by employing a "white voice," callers are more likely to stay on the line and make a purchase. His recent successes capture the interests of upper-management. From there, the screenplay commands intoxicating energy as it satirizes corporate culture, the media, and politics.
What I admired most about it, however, is its willingness to show how it is like for a person of color in a country that values whiteness. The "white voice," for example, is played as a joke, but it is sharp commentary, too. After all, when there is implication that "white voice" is valued over brown or black voices, what does that say about how brown or black skins are actually seen? Still, despite what it has to say about a range of topics, the film is entertaining first and foremost.