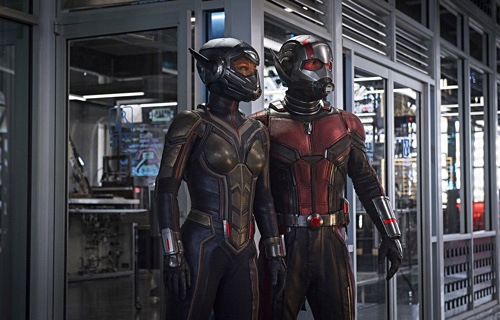 Ant-Man and the Wasp (2018)
★★★ / ★★★★
Peyton Reed's "Ant-Man and the Wasp" may be lacking the epic scale that some of the other Marvel movies possess, but what it has to offer is equally invaluable: terrific entertainment without even lifting a finger. And yet—it tries to engage the viewer every step of the way, whether it be in terms of wacky banters, larger-than-life action pieces, or surprisingly emotional turns of the plot which remind us that our protagonists are fighting for something close to home: to rescue a family member (Michelle Pfeiffer) from the so-called Quantum Realm, a universe composed of worlds in a subatomic scale.
Under Reed's direction, the film moves at a brisk pace with imagination to spare. Notice that although action scenes almost always involve Dr. Hank Pym's (Michael Douglas) miniaturized lab being stolen, and it can be argued that one or two of them drag during the latter half, a new setting is consistently utilized to show us interesting ways for Ant-Man (Paul Rudd) and Wasp (Evangeline Lilly) to exercise their powers. What results are memorable scenes with distinct flavors. Particularly impressive is the car chase that unfolds in the winding and hilly streets San Francisco which leads to our hero increasing his size to dangerous levels in order to chase a tour boat in Fisherman's Wharf. Although these scenes are busy and exciting, the effervescent humor runs parallel to them.
There is a running joke about magic tricks but the approach likens that of a juggling act. The rescue mission lies in the center but there are also bits such as the house arrest of Scott Lang (Rudd) following the events of "Captain America: Civil War," in which an FBI agent (Randall Park) attempts to keep a close watch, an enigmatic figure called Ghost (Hannah John-Kamen) who is able to walk to through walls but is in constant nearly unbearable pain, and a black market dealer (Walton Goggins) hoping to steal the lab's technologies and make a healthy profit. It even has time to inject the humor of the X-Con Security crew (Michael Peña, T.I., David Dasmalchian). Somehow these elements work together not only because of the performances but also due to the screenplay being written smartly, always aware not to wear out a subplot's running gag.
Like numerous Marvel movies, the "Ant-Man" sequel suffers from an antagonist that ought to have been more interesting. While Ghost is provided a rudimentary background, and it is great that she is not intended to function as a typical villain who wish to end the world or make people suffer, she is not intriguing outside of what she can do to prevent Ant-Man and the Wasp from pulling off their central mission. While John-Kamen is fit for the role, I recognized a common ailment that performers rely on when the material does not inject enough substance into its characters: quirky behavior. More interesting, however, is her relationship with a father-like figure. I wished to know more about them and their work together following Ghost's orphanhood.
Another relationship worth further examination is the titular characters'. Scott and Hope's more romantic moments are reduced to awkward dialogues (mostly executed and dragged on by Scott without losing a percentage of charm) and googly-eyed exchanges. While the romantic chemistry between Rudd and Lilly is strong, we do not experience genuine growth in their relationship nor do we recognize that, following their struggles in this film, they come to see one another under a new light, that they appreciate one another more. I suppose something has got to give when the action and comedy must be at the forefront. Yet one can argue that we should expect more exactly because the writers and filmmakers are so talented in juggling disparate elements.
Despite its secondary shortcomings, "Ant-Man and the Wasp" offers great fun. It is always visually dazzling whenever the film showcases images from a miniaturized point of view, particularly during the action sequence at a hotel kitchen. Even more daring images are found within the Quantum Realm, the pavonine colors almost overwhelming the senses.