Alex Strangelove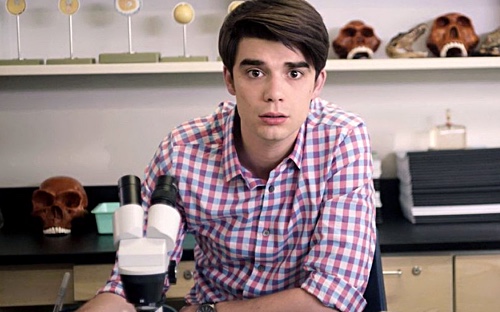 Alex Strangelove (2018)
★★★ / ★★★★
Fifteen to twenty minutes into the picture, I was convinced that "Alex Strangelove," written and directed by Craig Johnson, would have nothing to offer other than Disney Channel-like conflicts, characters, and sense humor—but not from the creative and daring Disney shows from late 1990s and early 2000s… Rather, from those shows released during the mid- to late 2000s that inspire viewers to roll their eyes due to cheese overdose. But something unexpected happens during an expected high school party—thrown by the drama kids, no less. As it begins to unbox the central conflict of the story, the main character discovering that it is possible he might be bisexual, the picture suddenly comes to life.
There are plenty of coming out stories but not too many stand out. One of the main reasons is a lack of authenticity. In order for this type of story to resonate, it must be believable, from the look of the high school environment and the cast playing certain types of teenagers to the variegated conflicts the characters must grapple with, especially when it comes to the person coming out of the closet and those within his or her inner circle.
While this film does not stand strong among teen-centric LGBTQ+ films like "Get Real," "But I'm a Cheerleader," "The Way He Looks," "Beautiful Thing," and "Summer Storm," it gets one thing exactly right: It is compassionate toward both the person dealing with his sexuality and those around him. There is no villain here other than one's crippling shame and fear—two elements so powerful that Alex is unable to ask himself even the most basic questions regarding his sexuality and to answer questions asked by his peers. Perhaps one of the best parts of the film is when his girlfriend confronts him about not having known or even suspected that he might not be heterosexual after seventeen years. Is that even possible?
Alex is played by Daniel Doheny and he turns the smart, kind, and neurotic class president into a believable person. Doheny shares great chemistry with Madeline Weinstein; the latter is not simply the suspicious girlfriend who nags. She, too, has her own set of problems outside of her romantic relationship with Alex. I enjoyed that their connection is written in a way that it is rooted in friendship rather than one that is copied and pasted from a default template of teen romcoms. When one hurts, so does the other. The picture takes its time to underline this recurring theme. There is no doubt in our minds that their friendship would be able to weather the storm. The question is how their relationship is going to be sculpted.
While the film can be unabashedly crude for the sake of generating laughter, especially the gross-out scenes which almost always revolve around parties, notice its approach during the more dramatic scenes. It is quiet, patient, and the camera is still as it focuses on faces. It feels as though the camera is a friend who is there to be present, to listen, to console as the teens face challenges. By having the courage to trust on what silence communicates and to not move the camera in order to avoid distraction, the writer-director is able to create an intimate look into the teenagers' lives.
"Alex Strangelove" has a few surprises up its sleeve. Even the boisterous best friend (Daniel Zolghadri) is given shadings. For instance, moments when he tells Alex that he can be difficult sometimes will likely remind the viewer of a good friend who does exactly the same when the occasion calls for it. As for Alex' potential romantic interest, it is so nice that Elliot (Antonio Marziale) is written as a stable figure, one who does not need to change for anything, or anyone, or simply because the plot demands it. There is freshness to be found in this picture if one is willing to look closely.