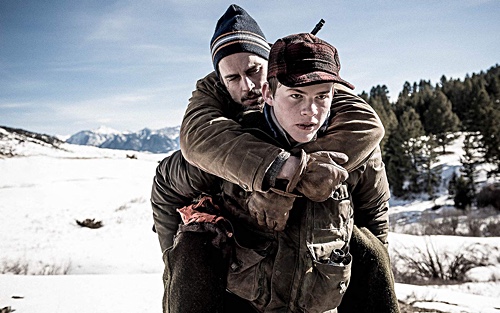 Walking Out (2017)
★★★ / ★★★★
Alex Smith and Andrew J. Smith's "Walking Out" unfolds like a beautiful adventure novel, so willing to detail the interior lives of its characters while showing what happens to the father and son, Cal (Matt Bomer) and David (Josh Wiggins), while out in the wilderness during a hunting trip. It is a survival story, certainly, but it works as a drama first and foremost. It makes for a compelling watch, made for lovers of nature and intimate portraits of relationships in which the plot serves to explore the surprising bonds between family and their arresting but unforgiving environment.
Flashbacks are too often misused as a tool to plug in the missing pieces of the screenplay. It is a rare occasion when it is utilized effectively, as it is here, because the memories we come to see serve to enhance an already rich material. Because the filmmakers do not use flashbacks as a crutch, the viewers look forward to the retrospectives since these either highlight a theme or reveal surprising information about why, for example, Cal insists on teaching David how to hunt even though his son is apparently not into it initially.
These flashbacks involve young Cal (Alex Neustaedter), who was around David's age, and his hunting expeditions with his father (Bill Pullman). The images are majestic, especially when the camera gets as close to an animal as possible, but at the same time the film is unafraid to show that being out in the mountains is often cold, dirty, frustrating, and requires a colossal amount of patience. There is a wise but amusing line regarding the key difference between hunting and shopping.
Bomer and Wiggins share solid chemistry even though there are times when it feels as though we are watching two brothers rather than a father and his son. While it is not necessary to make Bomer look older, it might have helped if the performer had adapted a body language that is a bit more worn or experienced. Or perhaps a certain way of walking. At the same time, however, perhaps the father's youth is the point, one of the reasons why he connects deeply with his son during moments when he isn't a teacher or guide.
Meanwhile, Wiggins fits the role as a teenager so used to constantly holding technology in his hands that he forgets his visit to his father in the remote wilderness of Montana is one to be cherished, not just for the views but also when it comes to time to be shared. (We assume his parents are divorced and David only sees his father perhaps once or twice a year.) His growth throughout the picture is thoroughly convincing; it is the correct decision that the final shot be of David looking at a distance.
"Walking Out" is based on a short story by David Quammen. It is efficient but filled with details and so we are entertained by the drama that unfolds. Particularly impressive is the second half in which the dialogue becomes uncommon and the slow pacing dominates. It is meant to capture a particular experience so we are left listening to shuffling feet as it struggles against inches of snow, the call of wild animals, and the muffled sloshing of a river underneath inches of ice.