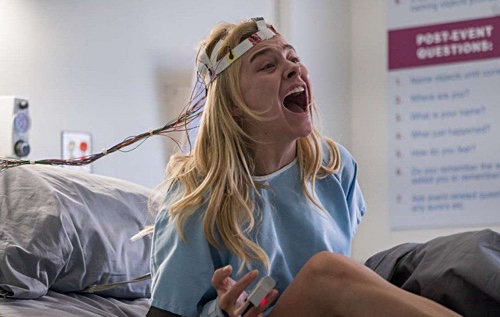 Brain on Fire (2016)
★★★ / ★★★★
Beware: those who expect a high-class medical drama are likely to be disappointed with "Brain on Fire," based on a true story of a healthy young woman who finds herself suddenly plagued with an enchilada of terrifying symptoms, from auditory and visual hallucinations to intense seizures and huge gaps of memory loss. But those with a penchant for disease-of-the-week television shows are equally likely to be engaged with the mysterious case at hand.
One might argue that the film's greatest limitation is a barebones screenplay which makes the story feel rather non-cinematic. In its attempt to trim the fat completely and focus on the rare disease, it excises nearly everything else, particularly the complexities of the subject's work life (Tyler Perry, Jenny Slate), love life (Thomas Mann), and family life (Carrie-Anne Moss, Richard Armitage). In a story like this, personalization is most critical because extra details lead to substance which helps to put a face on a particular disease.
Despite its occasional lack of subtlety, a few cringe-inducing dialogue, and familiar beats inherent to medical dramas, I found the work to be thoroughly engaging otherwise. While I craved to look closely at the medical charts and X-rays, especially exchanges filled with medical jargon, the screenplay by writer-director Gerard Barrett breezes through them because it is not his goal to create a first-class medical drama. And that is perfectly fine. I think the point of the project is two-fold: to make an easily digestible work for the more casual viewers and to shed light on a rare disease, and perhaps others like it, that is often misdiagnosed by the brightest professionals. On this level, it works.
Chloë Grace Moretz plays twenty-one-year-old Susannah Cahalan, a journalist for the New York Post. Her debilitation from a very lively woman to a catatonic vegetable is convincing and, at some point, genuinely touching. Perhaps the strongest moments are instances when the camera takes its time to show the subject's pallid limbs, how her fingers liken that of old branches, how she can barely stand let alone put one foot in front of the other. Showing the effects of a disease is so important not just because it is frightening or sad but because it underlines the fact that every human disease has a cause and therefore an effect. We forget this fact sometimes, especially groups that choose to turn a blind eye on science.
While Moretz is front and center nearly throughout the film, it is Slate who steals the spotlight every time the two performers share a scene. Slate is known mostly as a comedian, but she proves once again that she can be equally effective in dramatic roles ("Obvious Child," "Landline"). Look closely when Margo, played by Slate, visits her co-worker at the hospital. Margo is not used to seeing Susannah in such a vulnerable, wilted state and it devastates her. Notice the way Slate starts the scene with a comic weapon compared to how she ends it with a completely different technique. It's impressive.
"Brain on Fire" can be criticized for being formulaic, but there is a reason why formulas exist. It is because when a formula works, it gets the job done. Such is the case in this curious picture. As someone who works in the field of science, it never ceases to amaze me how much we've learned in the past fifty to a hundred years—and also how much we have yet to learn. Imagine diseases out there with no correct answers yet—but are given "answers" anyway because some pieces, not all, seem to fit. It goes to show that our knowledge is still limited and we have work to do. Keep in mind, too, that certain diseases evolve over time.