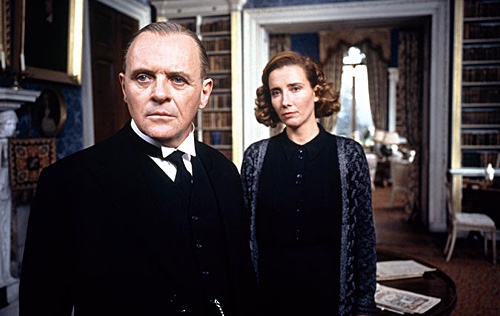 The Remains of the Day (1993)
★★★★ / ★★★★
James Ivory's subtle but powerful "The Remains of the Day," based on the novel by Kazuo Ishiguro and adapted to the screen by Ruth Prawer Jhabvala, tasks the viewer to read between the lines. On the surface, it can be argued that nothing much happens as we observe men of certain pedigree enter and exit the palatial Darlington Hall. But look closely and listen intently at how people—both the men of titles and the servants whose job is to ensure that every little thing during such posh gatherings goes swimmingly—carry themselves and the content of the various exchanges. There is a wealth of information to be had that touches upon duty—to one's country, fellowmen, career, personal needs, and conscience. Here is a film for those willing to fall under its hypnosis.
The story begins and ends in 1958 post-war Britain, but the majority of its content unfolds throughout the 1930s. Anthony Hopkins plays the butler of Darlington Hall, Mr. Stevens, and he is in charge of every minute detail, from making astute hiring decisions to carefully evaluating whether certain jobs are being performed well, that goes on within the residence. The later timeline involves the butler meeting with the former housekeeper, Ms. Kenton (Emma Thompson), who decided to leave Darlington Hall so she could get married, while the earlier timeline shows the many years the two have worked together and how their professional relationship and a sort-of friendship change over time.
Tension is ever-present when these veteran performers exchange dialogue. Their characters utilize their words either as shields or weapons, to attack or to disarm, sometimes to attempt to embrace, in a place where feelings, certainly romantic ones, are encouraged to be repressed because not doing so would not only serve as distraction, it would be considered unprofessional. Their struggle is a deliciously ironic, especially through the scope of nobility and decorum, because the owner of Darlington Hall (James Fox) eventually finds himself willing to make a deal with Adolf Hitler in order to prevent Britain from engaging in war. A number of wealthy diplomats, many of them so detached from what their citizens want, frequent the place and we assess their questionable intentions in a place of great beauty, from its internal architectures and sculptures to figurines and artworks hung on walls.
It is amazing how Hopkins is able to convey so much by wearing a rather stoic face and slow but precise body movements. A consummate actor, he is able to communicate plenty, for example, by simply touching someone else's hand with only his fingertips and letting them rest there for three seconds. Notice the way he controls his eyes when Mr. Stevens is performing an every day task, how it is rather similar to how he regards Ms. Kenton—it is the same look. But it is the correct decision, you see, because the character's passion lies in his job for it is his life. And so it is most appropriate that he looks at his work and the woman he deeply cares for in the same way. It is such an intelligent and insightful way of portraying a character. Thus, Mr. Stevens qualifies both an enigma and a tragic romantic figure.
Its languid pacing paves the way for viewers to become a part of Mr. Stevens' lifestyle. Because the protagonist does not say much, especially in terms of what he feels or thinks (he claims it is his job to serve, not to share his opinion or sentiments), it is critical that we are provided a thorough understanding of how he lives. The writing and camera work engage in a steady rhythm, almost like a slow dance, so that almost every scene communicates something important or telling about the character. It is not interested in handholding or spoon-feeding us information; it is there if or when we choose to look.
Here is a melancholic film that engages the mind. It does not attempt to be profound or enlightening, it just is. It simply tells the story in a smart way and it is up to us to extract meaning based on our own education, life experiences, our hopes and fears. It is a very human story lovingly told with perspective, elegance, and grace.