You Were Never Really Here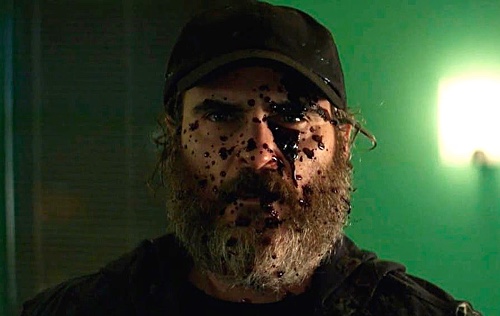 You Were Never Really Here (2017)
★★ / ★★★★
It is not often that I walk away from a film not knowing what it is about exactly but at the same time feeling like the ride is somewhat worth it. "You Were Never Really Here" is based on the book by Jonathan Ames and it is directed and adapted to the screen by Lynne Ramsay, a writer-director who is no stranger when it comes to uncompromising pictures that show violence externally and, perhaps more intriguingly, internally. Her familiar approach is present here but the structure of a hitman going on a mission that he is eventually blindsided by is twisted and manipulated in such a way that it becomes almost poetic.
It is difficult to recommend the picture because it not made for everyone—or even most people. It is, I think, for viewers who are open to what cinema can be or provide outside of a typical three-arc structure in which we know exactly where it is going, what is going to happen, and how it will end. The action is interlaced by flashbacks, imaginings, and traumas so detailed that it is never necessary for the material to stop and explain what is unfolding. Based on our life experiences, what we see in the movies or television shows, what we read in books or hear in music, it is up to us to construct what we believe is happening, and I think there is power in this approach.
Joaquin Phoenix plays an enigmatic man named Joe who is tasked to rescue a girl from a sex trafficking ring. The performance looks effortless but that is what's brilliant about it. There are extended sequences here in which the viewer simply gets the chance to observe a consummate actor exercising his craft. Joe comes from such a violent and troubled childhood that the man who grew up from such toxicity is angry, violent, unpredictable. And yet notice Phoenix' level of control. For instance, when the character is agitated by an external factor, the first response is almost always extreme violence. Now watch how Phoenix reels that monster back in toward a more calculated rage. A wise director, Ramsay ensures that the camera captures the performer's eyes—they turn from monstrous to a child riddled with fear but does not know what to do with it.
On the surface, perhaps the movie is about channeling one's trauma ("bad") into a service ("good")—rescuing an underage girl and punishing those who deserve it. But, looking closely, I believe it is not that simple because the performance communicates that the service provided does not function as therapy. On the contrary, as the goes pictures on, there is an increasing number of opportunities for us to glimpse into his fractured mind. Clearly, he is not made healthier by his actions. Note how slowly he moves, as if he were sleepwalking, and the state of his unkempt body. This is a man on the path of self-destruction.
There are stretches of great frustration for me, particularly in the contrast between tension-filled scenes but the protagonist moving as slow as molasses. Had the story been more straightforward by amplifying its action-thriller elements, for example, it could have been a crowd-pleaser. But that is not the movie that was made and I appreciate Ramsay's willingness to deliver upon her specific vision. What results is a work that is probably worth seeing once given that those willing to dive in are in the mood to be challenged.