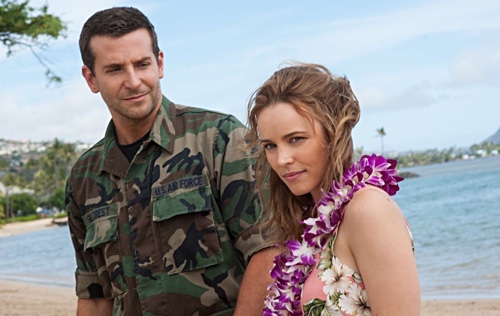 Aloha (2015)
★★ / ★★★★
Brian Gilcrest (Bradley Cooper), a military contractor who currently works for a billionaire (Bill Murray), visits Hawaii for five days in order to make an important deal with the locals and to supervise a gate blessing at an airport. A member of the Air Force, the very enthusiastic Captain Allison Ng (Emma Stone), is assigned to be his escort. The two soon hit it off despite Brian's initial reluctance because his former flame (Rachel MacAdams), currently unhappy with her marriage, also lives on the island.
"Aloha," written and directed by Cameron Crowe is a fine movie—which is not a compliment. It is too vanilla—divorced from people's outrage regarding the casting of Stone playing a character who is supposed to be a quarter Asian—meaning there is not much flavor in the story, script, and style of direction. There are, however, highly watchable performances, particularly by Stone who is radiant in just about every scene. Cooper has a strong, likable presence, sort of like an uncle you want to hug and share a beer with, but it is Stone who steals the movie.
There is some believable chemistry shared between the central potential couple. The two eventually realizing that they feel attracted to one another does not take half of the running time which is a nice surprise because this decision makes room for other, more interesting avenues. I particularly enjoyed the strained relationship between Brian and Tracy, his ex-girlfriend with whom he had not seen for over a decade. Because Cooper and McAdams are seasoned performers, comfortable with projecting emotions under multiple wavelengths, I believed that they have history and that is hard for them even being in the same room, let alone excavating a bit of the past.
One might argue that the story does not truly come into focus. Another might claim that it is really about nothing new or deep, just a series of scenes where we follow the main character and events unfold. Neither would be wrong. What I liked, though, was the feeling of being involved in the light comedy-drama despite not having a classic story arc. For example, there is no expected villain here—which is surprising because the ex-girlfriend could have been an easy target. Another potential source of conflict could have been Tracy's husband (John Krasinski). Instead, these two are actually likable even though there are some problems with their partnerships.
Less effective are scenes involving the military and the billionaire which comprises about a third of the picture. Those in position of power are written and played like caricatures. While it is apparent that none of them are supposed to be taken seriously, I found them rather dull and boring. Casting big names to play these men is a waste.
Although Alec Baldwin and Bill Murray have at least one scene where they are allowed to shine, neither character says nor does anything that impacts the story significantly. I argue that if these scenes were removed altogether or only mentioned, the final product would have been stronger because the material would have turned out leaner. Emphasis would likely have been on human relationships rather than a thinly plotted redemption/patriotism subplot that comes across as highly tacked on.
"Aloha" is predictable and strange tonally—the latter being a compliment. I was curious, never frustrated, with where it is going and as far as light fares go, it could be worse. Still, aside from pretty good performances from actors with whom we know we can rely on to deliver, there is nothing much to recommend here.