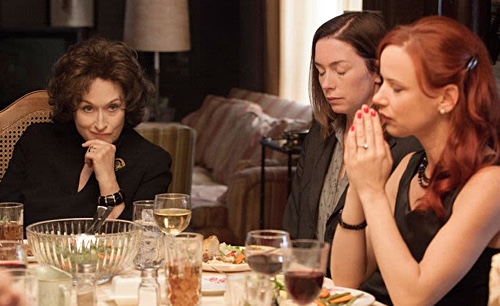 August: Osage County (2013)
★★ / ★★★★
When their father (Sam Shepard) took off without warning, a note, or a telephone call, a rarity occurs: the Weston daughters—Barbara (Julia Roberts), Ivy (Julianne Nicholson), and Karen (Juliette Lewis)—are all under one roof with Violet (Meryl Streep), the drug-addicted, cancer-stricken matriarch. It isn't long until old wounds are rubbed with salt and the pain, anger, frustration are exorcised to the surface. There are good reasons why the women meet only during dire occasions. Every little thing turns conversations turn into arguments.
Based on a play and written for the screen by Tracy Letts, "August: Osage County" offers big and often entertaining performances. If you like to see emotionally self-destructive characters yelling at each other until others hurt as much as they do, then look no further. However, it is a bit of a disappointment because it feels too much like a play in that we rarely feel that these characters have inner monologues or have inner lives. Just about everything must be expressed verbally which is simply not very cinematic.
Streep is mesmerizing to watch as usual but it is Roberts that grabbed me most. I was interested in the character she plays because Barbara is so blind with rage that she fails to realize she no longer has anybody. Her daughter (Abigail Breslin) does not respect her. Her husband (Ewan McGregor) seeks emotional and physical comfort somewhere else. She is not very close with her sisters. Forget about having any relationship with her mother. At one point, I wanted to ask her directly if she was tired—tired of being alone, being so undesirable to be around, being so into her head that she neglects to see the big picture.
I wished the picture had shown more of the landscape where there is only farms, yellow grass, and mountains for miles. Being in that dark house takes a toll eventually and I began to get tired of the incessant whining and barking. When characters drive through the highway or step outside the vehicle, I imagined the scent of the wind, how it caresses the skin, and what it must feel like to walk barefoot on dried grass. Director John Wells fails to take advantage of contrast: the elegance of open space against the unpleasant quarreling in the household.
The characters confronting each other is a claustrophobic and uncomfortable experience. The dinner is one to be remembered, for better or worse, because it builds for an extended amount of time. Just when we think it has hit the highest mark, the next minute shows that the previous one is only a warm-up. While it has its share of histrionic lines, it entertains in a campy sort of way.
About halfway through, I asked myself what "August: Osage County" wishes to say—about family, the idea of unconditional love, generational gaps—but cannot come up with any. And that is a problem. Though the seeds are there, none of them are given the chance to sprout and thrive. Like many plays that have been translated onto film unsuccessfully, perhaps this one should have remained on the stage.