Open Grave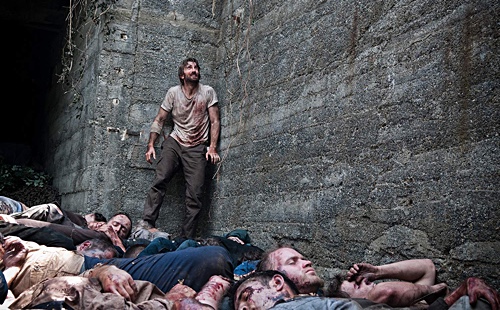 Open Grave (2013)
★ / ★★★★
A man wakes up among a pile of corpses and discovers a bite mark on his arm. Disoriented and with no memory of who he is, he comes across a gun and enters a house. There, he discovers five people who appear to be in a similar situation as he is. They decide to work together despite being suspicious that perhaps one of them knows exactly what is going on. While exploring the surrounding area of the house, a little boy calls the man Jonah (Sharlto Copley), the former clearly terrified of the man's presence.
Movies with an interesting premise but failing to aspire to achieve anything else should not be tolerated by audiences. "Open Grave," written by Eddie Borey and Chris Borey, is this kind of film—so devoid of horror, intrigue, and rudimentary idea of how to create a steady rising action, I wished the film were over less than halfway through. Almost everything about it is uninspired.
The screenplay lacks life despite a mystery that involves a group attempting to figure out who they are and why they are thrusted in an almost impossible situation. It does not have an ear for dialogue. Listen carefully to how characters speak. Ignore the voices and focus on the words and phrases. Notice that they talk almost in an identical manner. As a result, the characters come across wooden, mere figures on screen who do not inspire us to want to know them.
It relies on flashbacks to create a dramatic arc. This is almost always a mistake because it requires not only a first-class screenplay but also deft direction to make it work. Because so much information relies on flashbacks, the current events surrounding the characters are overshadowed. Thus, why set the film's plot, including its climax, in the present when, clearly, the past is more important? Miscalculations this significant should not be overlooked—by the audience and the filmmakers themselves.
The confused characters scout the area for possible answers. Instead of the material focusing on answering the mystery, already dramatic scenes are overemphasized further by two characters staring intensely in one another's eyes. Supposedly, that sort of thing triggers memories. I laughed at it at first but then I grew bored by it just as quickly. By the fifth similar scene, I was convinced it was only biding time in order to keep the mystery covered up. It is a charade designed to waste everybody's time.
Despite some wide shots involving obvious CGI, I enjoyed looking at piles of dead, rotting human bodies. In movies of its type, I find that there is something beautiful about rotting flesh cobbled together in silence with buzzing of the flies highlighting the effect.
"Open Grave," directed by Gonzalo López-Gallego, is insufferable. It makes one too many elementary mistakes that we wonder if the filmmakers had any inspiration to draw from. The characters are confused. More importantly, we are confused because the persons behind the camera fail to plan and execute a story that comes together in such a way that is adroit or even remotely original.