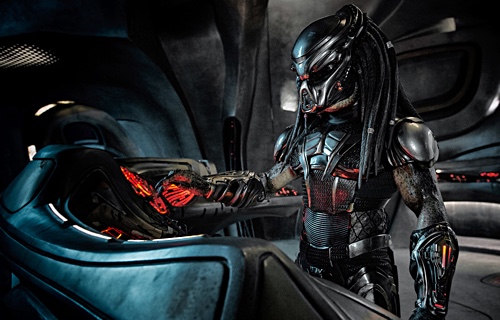 The Predator (2018)
★★ / ★★★★
"The Predator" is a marginally entertaining but unmemorable action sci-fi flick that offers a welcome change in scenery. This time, instead of people being hunted in the jungle, the action, for the most part, takes place in the suburbs and a military research facility. However, a different setting does not save the picture from being generic. Although Fred Dekker and Shane Black's screenplay attempts to infuse some level of characterization behind sheep to be slaughtered, there is a lack of a central presence strong enough to hold the picture together. While this approach can work, as if to build an impression that anyone can drop dead, the project is not helmed in such a way that the danger is constant and convincing.
Boyd Holbrook is given a challenging task of portraying a badass action star. I liked the casting choice because of the contrast between what we think a classic action figure ought to look like—sinewy, tanned, inclined to overact—but Holbrook is the antithesis. Clearly, he is a dramatic actor who just so happens to be very capable of being in action films because he can look good while shooting guns—or, in this case, sniper riles. One gets the impression that he has gotten so used to supporting roles that he does not feel the need to play it bigger than life. As a result, notice that when the performer is in a scene with the likes of Trevante Rhodes (who is so interesting here that I wished to know more about his character) and Thomas Jane, Holbrook almost blends into the background.
This is a weakness because the plot revolves around the sharpshooter who comes across alien technology that he then ships to his son (Jacob Tremblay) prior to learning that its owner would like to get it back. Note the lack of logic of this one-sentence plot description. Those looking for holes will find them—and will grow bored of the exercise. It is a true Hollywood blockbuster in that more thought is put into creating perilous situations than creating an intelligent roadmap of character motivations and the larger power—whether it be terrestrial or extraterrestrial—they fight against. Observe the presence of government personnel and how they are there only to amp up the body count.
The action sequences are standard but watchable. It is surprising that humor is used to allay some of the more hardcore images such as profuse gushing of blood from a gunshot, intestines spilling out of the gut, limbs being torn off completely. While humor does create a reaction, it is noticeable that the approach is double-edged in that because there is comedy embedded between terrifying encounters with the Predator, tension does not build as consistently. It does not help that the plot is pretty much an ordinary rescue operation. It offers no surprises when it comes to character deaths, revelations, or even the resolution.
I walked away from the picture with a marginally positive impression—not because of the action, the characters, or the special and visual effects. Rather, I was surprised by the picture's willingness to utilize politically incorrect humor, especially in this hypersensitive day and age. It is directed by Shane Black, no stranger to taking risks as writer-director. If only he took more risks with the material, perhaps by subverting it completely, instead of succumbing to Hollywood expectations. After all, the work is meant to revive the franchise which requires a massive jolt. This work is but a nudge.