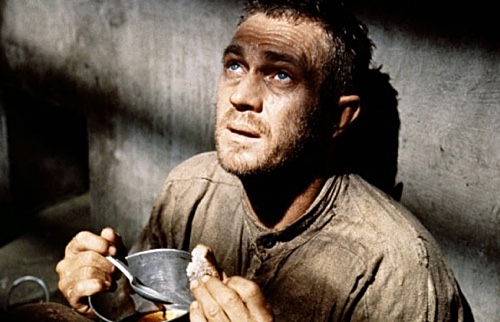 Papillon (1973)
★★ / ★★★★
Although not short on ambition, prison-break drama "Papillon," based on the autobiography of Henri Charrière, suffers from pacing and tonal issues so severe that at times they take the enjoyment out of what should be thrilling and exhilarating moments. It requires patience to endure these miscalculations especially considering the fact that the film clocks in at about a hundred fifty minutes. An argument can be made that it is too long and bloated.
Perhaps most enjoyable is the performances. Steve McQueen and Dustin Hoffman play Henri and Louis, a safecracker framed for a murder of a pimp (or so he claims) and a counterfeiter, respectively, prisoners in the French penal colony of Devil's Island. The power is not in the words they utter but the moments in between. They can look at one another, at the sky or the ocean, or at someone that they pity or are angry toward—and not much else is needed. This pair could have relied on their charm, physicality, or behavioral quirks. Instead, they choose to create convincing characters that we wish to make a successful escape not because it would be entertaining but rather we become convinced eventually that if they were to get a second chance at a free life, they would use it wisely.
I admired how the screenplay by Dalton Trumbo and Lorenzo Semple Jr. takes the time to show how it is like to be in this particular prison, especially solitary confinement. This is when the languid pacing is at its most effective because we see and feel the psychological toll the prisoner undergoes over time. We appreciate the size of the cell, the etchings on walls, what the previous man who lived in that cell was possibly thinking, the food served, or lack thereof, the bugs crawling across the floor, the classical conditioning based on the sound made by guards on the hallway. When the material provides a high level of specificity, it is fascinating. However, it reverts to becoming a prison break movie.
The act of making an escape should be suspenseful and thrilling. While I enjoyed there is no gadgetry, complex planning, and special effects are kept at a bare minimum, observe these scenes closely and recognize they come across somewhat slapstick at times. I considered the editing. Maybe it lingers a second or two too long after a guard is hit over the head that it leaves enough room for the overacting to come across as fake. I considered the rather uninteresting perspective of the camera, how it tends to observe from one angle and dares not budge even when the subjects are running for their lives. I even considered the lack of an exciting score that is designed to snap the viewers out of ennui. Maybe if the silly sound effects were masked a bit, it would have been more exciting and less amusing.
Perhaps all of these elements combined created the unintended byproduct.
"Papillon" is surprising in that it is not character-driven. Take a look at the relationship between Henri and Louis. While it is interesting that they are not quite friends, more like two people who need each other since what one lacks the other can offer, they are not that interesting when together or apart—especially when the script requires that they speak with one another about, for example, planning an escape or why one ought to partake in escaping. The lives of these two men divorced from the prison are described briefly, but these come across as decorations rather than convincing realities.