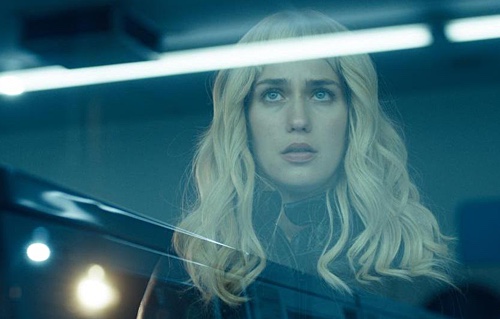 Gemini (2017)
★ / ★★★★
As the minutes trickle away, especially after the murder of interest, it begins to feel blatantly obvious that the material does not know where to go. At times it appears as though "Gemini," written and directed by Aaron Katz, wishes to be a film noir. When it no longer feels like wearing this suit, it goes for a standard murder mystery. And all the while it wishes to make a statement about Los Angeles and its celebrity culture: the agents, assistants, superfans, paparazzi, and those involved in making movies; it is a mess and by the end, the viewer no longer cares about the answers it provides—probably because those experienced with mysteries have long figured out its endgame.
The assistant who investigates her client's murder, an actress (Zoë Kravitz) whose career is currently red hot, is played by Lola Kirke, sporting a mannequin-like facial expression almost throughout the entire picture. To me, she delivers an interesting performance because it appears as though Jill is sleepwalking after the trauma of coming across her friend's corpse. But the screenplay fails to give an intriguing performance any support. Naturally, the assistant is the number one suspect from the perspective of a detective (John Cho) who is assigned to the case.
There is a mechanical pattern to its attempts to increase the tension: Jill enters a hotel room, a house, or a place of business—basically any place where she shouldn't be—because she is following a lead. The threat is almost always someone potentially finding out about what she is up to. What if the killer is the person whom she least suspects and he or she happens to be nearby? The formula exasperates rather than entertains the viewer because there is no variation in the expected beats. With a running time of less than ninety minutes, breezy for a mystery-thriller, it still drags.
Notice how the dialogue sounds so overwritten. When there is conflict between two characters, one of them suddenly begins to sound like the writer typing the dialogue and trying to make exchanges sound intense instead of actually being in the moment and embracing its messy intensity. And because we notice that the character and the words he employs does not sound like himself within moments of great friction, we are taken out of the moment. Thus, the drama comes across as false and occasionally laughable.
It is clear that the picture's strength is its visuals. There are moments, especially scenes that unfold at night, when Los Angeles looks like an underworld of darkness and neon lights. Perhaps the only element missing is an eighties soundtrack. But kaleidoscopic visuals do not make an intriguing or ingenious mystery. The writer-director must have a screenplay so sharp that by its opening scenes its claws have us by the throat and never let up. There is no surprise to be had here, just a whole lot of boredom.