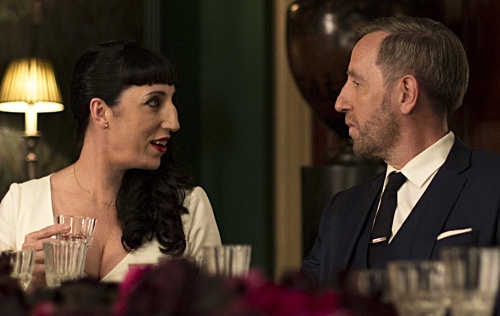 Madame (2017)
★★★★ / ★★★★
Although Amanda Sthers' razor-sharp comedy-of-manners "Madame" unfolds within the household of a wealthy family, it is effective as a social commentary when it comes to how we see and therefore treat people in uniform who hold jobs that are typically considered as common or lowly. Some may reduce the plot to a lite Cinderella story, but it is so much smarter, more efficient, certainly more savage, than mainstream comedies.
In this case, the focus is on how a maid, required by her employer to pretend as a posh friend due to a mix-up in the number of guests to attend the dinner party, is utilized as an object to be displayed when the upper-crust company arrive. She is expected to be radiant, classy, sophisticated, and quiet—traits that poor or working-class people simply do not possess, at least according the family she works for. They may not say it, but their behavior communicates exactly what and how they feel toward the person who is more or less invisible until she does something even slightly wrong.
Rossy de Palma is one of the few performers who disarms me simply by looking at her. Not considered to possess a typical beauty, she has proven in previous roles that she has mastered how to utilize her strong and unique features. In this film, she softens them in order to acquire the viewers' empathy without necessarily feeling sorry for her. For instance, look closely during the dinner sequence. Even when she is surrounded by a crowd in the middle of conversations, all she has to do is turn to her face in profile relative to the camera and our eyes go directly toward her. When she bulges her eyes a little, we know exactly what she's thinking. When she is eating soup and looking down, she remains in character; we feel how uncomfortable and awkward Maria feels, how ashamed she is for being at that table as her employer discharges pointed looks at her for stealing the spotlight. Note the way she handles the utensils. Clearly, the ballet is being performed by a consummate actor.
But the picture is not just about the maid. It is also about the woman who is baffled for realizing she is jealous of her own maid. Collette plays Anne as a shrew, but her portrayal inspires a certain sadness despite the character's extremely disgusting behavior. I admired that the screenplay touches upon a few reasons why this woman feels the need to control—even those that shouldn't be controlled. de Palma and Collette share great chemistry in which the reaction is almost always cold and unforgiving. We wonder about their history, particularly how Maria could have endured working for Anne for a decade.
I imagine many viewers are likely to be put off by the ending. For me, however, it is most appropriate because it works a barometer on how optimistic or pessimistic we are about how life tends to unfold. I enjoyed that the final few minutes turns its attention on the viewer rather than the characters. Yes, we wonder what will happen next. But how we feel about what might happen next holds more significance. We walk away with a strong impression.