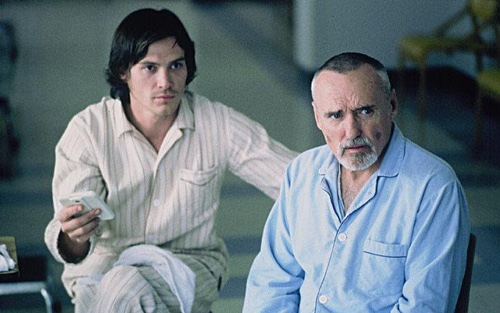 Jesus' Son (1999)
★★ / ★★★★
FH (Billy Crudup), shorthand for "fuckhead" because of his tendency to bring the worst out of a situation, is hitchhiking to Mexico in hopes of finding his girlfriend, Michelle (Samantha Morton), who ran off with a man named John Smith. A family is kind enough to stop and agrees to take him where he needs to go, but the ride is short-lived when they get into a car crash. FH recalls the events in the past three years that lead up to the accident.
"Jesus' Son," based on the book by Denis Johnson, is a film that means so well, full of optimism and small but important life lessons, so it pains me a little bit to admit that it did not quite work for me. Although Crudup's strong performance is a thread that unites the funny, eccentric, tragic characters, there is a lack of cohesion in the story. In retrospect, what I remember is the individual misadventures that FH gets into throughout the months and years, not his evolution from an irresolute man to someone who has developed self-awareness.
It is difficult to imagine anyone else playing FH. Crudup makes his character into a real person by using his good looks to lure us and his talent to defy our expectations. Just when we feel like we have a good grip on the character, the performer reveals another layer that is either contradictory of what we came to know about FH just a couple of scenes prior or a deeper detail like a sadness underneath FH's comforting smiles or charming ticks. It is easy to label FH as a loser given his addiction to drugs, very laid-back attitude, and lack of prospects. Crudup gives the character a chance. Yes, the protagonist can be considered a slacker, but that is not what all there is to him.
The supporting actors are interesting, too. Morton could have played her character as a typical white trash, especially in the way Michelle is introduced, but she does a good job showing her character being drawn toward the heroine that gives her temporary ecstasy versus FH who may not be perfect but he is there and he is real. Also, Dennis Hopper makes an appearance in the latter half, a man on a wheelchair with a bullet hole on each side of his cheek. To reveal more about FH's interaction with Hopper's character is to take away something from the film. But what they share is tender, amusing, and honest. I wished it had been longer.
However, some performances are so alive, they threaten to derail the mood of the picture. The first is Denis Leary playing Wayne, a man who has a plan for making a quick buck. He demands our attention. The second (and more distracting) is Jack Black, FH's eventual co-worker as orderlies in a hospital. The scene with the hunting knife is hilarious due to the situation itself, but Black's tendency to exaggerate pushes the kind of amusement that feels right for this material into a comedy show. Still, at least Black's character is far from boring.
Since the story is non-linear, it is most critical that the transitions among time jumps and location changes feel smooth. Otherwise, it will feel like the story is choppy–as it does here. Mix such techniques with dream sequences, it almost feels like trouble. Because of this, it gives the impression that the mood fluctuates so much that the inner turmoils that FH goes through almost become an afterthought.
Directed by Alison Maclean, "Jesus' Son" has very good performances but its disparate techniques in storytelling do not consistently reach a synergy that is necessary for the work to be truly memorable. But at least the final scene is nicely handled when it could have been treated as a throwaway, how the protagonist is finally able to be in control after always lumbering toward the direction of pleasure for so long.