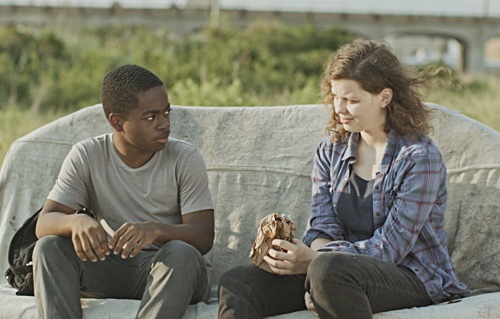 The Transfiguration (2016)
★★ / ★★★★
A dark character drama with a premise of a horror film, "The Transfiguration" begins with great promise but fizzles out about halfway through when one realizes we are simply being made to sit through a series of uneventful scenarios in which the punchline is repeated until boredom sets in. Had writer-director Michael O'Shea taken another pass at his screenplay, I think, or I hope, he would have realized that breaking the ennui is necessary to tell a compelling story even though the subject's malaise, his deep melancholy, is itself the point.
Milo (Eric Ruffin) is convinced he is a vampire—so convinced that he murders unsuspecting strangers and drinks their blood. He is obsessed with nearly everything that has to do with vampirism—books, movies, television shows, magazines—so long as they are realistic. (He is more a fan of "Let the Right One In" than "Twilight.") I enjoyed that the title sounds fantastical, but the story is truly a study of a pathological condition: Milo is a budding serial killer… and yet we are asked to understand him.
I welcomed its goal of trying to comprehend what goes on in the mind of someone who feels the need to kill. We observe Milo's life at home—how he is barely raised by his brother (Aaron Moten) because both of their parents have died; his community—a poor neighborhood in which the majority of the population is black; what goes on at school—particularly with the counselor he is required to visit; how he attempts to make a connection with a girl named Sophie (Chloe Levine) who is new to the neighborhood. Although an important piece worth looking into can be found in every one of these contributing factors, the screenplay fails to move beyond them eventually. A third of the way through, I began to notice ideas being repeated and nearly every unfortunate encounter feels like padding.
We get it: Milo is disturbed and depressed—a dangerous combination for himself and those around him. But what else? Given that the material is supposed to be a character study, there has to be more than situational drama. I wondered if we were supposed to empathize with Milo. At least to me, he is already beyond help in that he has killed—more than twice or even three times—which is established within the picture's opening minutes. So why is it worth following this subject? What makes him special beyond his pathology? When the end credits began to roll, I felt I had no idea. But I feel it must be stated that Ruffin has done a solid attempt in creating a convincing character who is so closed off from the world that he began to feel supernatural, maybe even superhuman, despite a stagnant screenplay. I felt that he is capable of doing so much more.
Some scenes are quite chilling, particularly when Milo leads a white male teenager into his apartment building only to watch his prey get killed by gang members. (I believe Milo had every intention of murdering the teenager before circumstances changed.) Notice the lack of empathy in those eyes. Gunshots do not even make him flinch. Maybe Milo is a vampire: dead on the inside. These dramatic developments are few and far between, however.