Hearts Beat Loud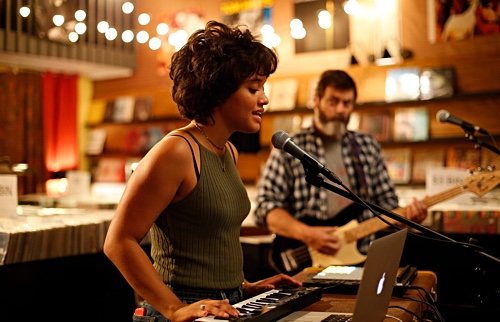 Hearts Beat Loud (2018)
★★★ / ★★★★
Jaded viewers might assume that the premise of a father-daughter duo forming a band called We Are Not a Band—cheeky, possibly twee—will offer mere puppies and rainbows, but "Hearts Beat Loud," written by Brett Haley and Marc Basch, is sharper than the average comedy-drama-musical because it shows that life does not move out of anybody's way. It's adapt or perish. It shows that virtues like love, passion, and friendship—or even a successful debut performance—are not enough to change the course of what must happen. Despite this, the film is highly watchable and entertaining. Although not afraid of silence at times, notice how music is almost always present, as if it were the very air our subjects breathe.
Sam (Kiersey Clemons) hopes to become a physician and she believes that attending UCLA as a pre-med will take her one step closer to her dream. She is so excited, she decided to take pre-med summer camp courses during the summer. But given that she and her father, Frank (Nick Offerman), live in Brooklyn, New York, the latter has started to experience separation anxiety on top of financial stresses involving his failing vinyl shop. His solution: start a band with his daughter who is clearly gifted musically. Maybe they could start a band and tour the country.
This surprisingly toe-tapping picture wonderfully captures how it feels like for someone who is about to leave for university. Clemons is so natural in the role that she can stand in one spot simply reacting to somebody and her body language, especially her expressive eyes, communicates plenty. Looking at the character closely, I felt she is unchallenged by the neighborhood she grew up in, that she hopes to start over in a new location where her mother's death doesn't linger, that it is also her goal to be able to help her father financially once she has established a career. The great thing is none of these are mentioned in the film. Look closely and there are hints scattered around that Sam is always thinking, planning.
She is also a highly feeling person—there are instances when her father frustrates her but she has learned to compartmentalize. This ability makes room for a fresher script. Instead of typical confrontations in which characters raise their voices when they disagree or when another stayed past curfew, the material makes room for not only unpredictability but also pain that lingers longer or deeper than when conflict must occur because a dramatic parabola or timing must be followed. I admired that this work would rather allow room for making or singing songs than having to create shallow or inconsequential exchanges. No, it is not because the filmmakers wish to make a musical. It is able to capture a spirit, a flow.
The songs are catchy, their lyrics are personal, and the performances are believable. Watch Clemons closely. She plays the character like a real girl rather than a wannabe pop star. When belting out the lyrics, she is an an actor first and a singer second—she performs to deliver the emotions behind the song, not to look good while singing or to reach the higher notes perfectly. She is willing to contort her face. She is unafraid to use her limbs even though certain angles may not look as flattering. Her approach of making Sam thoroughly relatable is smart. I look forward to the decisions she makes in her future roles.
"Hearts Beat Loud," directed by Brett Haley, is not just about the headstrong daughter who is about to go off to college. The other half is about the father, who was in a band back in the day but never reached the fame or success he thought he could have, who longs to be with his daughter for a second longer… and then another. There is a sadness to Offerman's character that is worth dedicating an entire script toward. Supporting characters like the landlord (Toni Collette) and the best friend/bartender (Ted Danson) are quite interesting, too. But credit goes to the screenwriters delivering a work that is both efficient and entertaining.