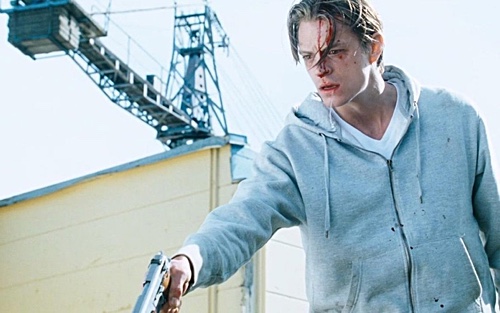 Easy Money (2010)
★★★ / ★★★★
Johan Westlund (Joel Kinnaman), nicknamed JW, is a student at the Stockholm School of Economics who happens to have rich friends. This is a problem because he comes from a humble background, but they tend to spend a ridiculous amount of money at parties and private gatherings, not to mention their fancy and expensive suits. JW hides the fact that he is a taxi driver to make extra cash. He is used to and is very good at pretending to be polished and wealthy, but meeting Sophie (Lisa Henni) changes everything. If he plans to keep up with his lies, he will need to make a lot of money in a very short amount of time. An opportunity presents itself when two warring groups fight over a highly profitable drug shipment.
"Snabba cash," based on the novel by Jens Lapidus, never loses footing on the human factor of the story even though it is capable of going into details of organized crime. This is key because although there are double- and triple-crosses, we are allowed to understand the motivations behind the characters' actions and so it never feels like the twists occur only to outsmart us. The entertainment value is there as well as drama that helps to propel the story forward in a way that makes sense.
There are three desperate men at the center of the story. JW is one of them and the others are Jorge (Matias Varela) and Mrado (Dragomir Mrsic), a Chilean and a Serb, a man who has escaped from prison with only one year left to serve and a father who is given the responsibility to take care of his young daughter, respectively. It is most interesting that JW wishes to go into the business, at least temporarily until he has enough money, while the other two are willing to do anything to get out while keeping their loved ones safe. The screenplay by Maria Karlsson gives us enough time to relate with each character, even though they may a bit rough around the edges, so when it is time to show the cards they are dealt with, we care about who wins or loses and to what degree.
Kinnaman is a man with poetry on his face. I was astounded with how much he is able to communicate by just staring intently at a fixed point. He is able to embody a young man so desperate for money that although few details are revealed about his background (some of them flat-out lies), we can imagine that it is likely that he did not have a lot while growing up. This is a person who keeps wanting. I loved the way the camera just leans in a little bit—but never lingering to avoid melodrama—as he considers whether or not to take an offer that might put his life at risk.
I believe that the most interesting characters come from screenplays that give us just enough elements to be able to construct a history based on what we believe best explains the person we see on screen. It is a way to mirror a part of ourselves onto something fictional so that we may understand ourselves a bit more. It exercises our imagination as well as our capacity for empathy and introspection.
Directed by Daniel Espinosa, "Easy Money" has slight pacing issues in the beginning, confusing at times become so many strands are introduced at once and it is difficult to tell who is connected to which group, but once it gets rolling, the dramatic momentum that is generated is similar to a thriller. There is a foreboding feeling that it will all go wrong somehow.