Ramen Heads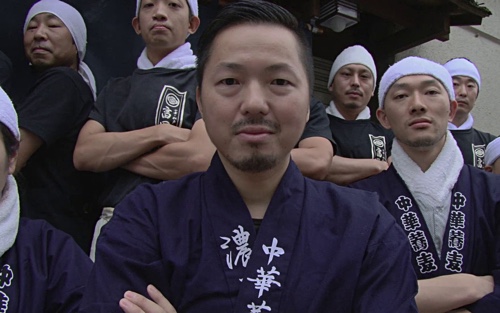 Ramen Heads (2017)
★★★★ / ★★★★
Koki Shigeno's directorial debut "Ramen Heads" makes a wonderful double-feature with the great film called "Tampopo" because both works, the former a documentary and the latter a comedy, are able to capture the drama of making and tasting ramen, a food most often associated with the Japanese culture even though it is not its place of origin. Yes, this film even dares to touch upon the food's history and the nation's relationship with it, especially during the postwar era between 1945 and 1947, when Japan experienced food shortages.
The energetic documentary focuses on Osamu Tomita, considered to be a master ramen chef whose shop is so popular that customers line up at five o'clock in the morning just so they can secure a spot when the place opens six hours later. The film is given eye-opening access to Tomita's successful business: we explore behind the kitchen and see how the broth is made, we appreciate the preparation that goes into making his highly acclaimed noodles, and we learn about how Tomita values the "slurpiness" of his creations. There is an openness to the chef that feels warm and inviting, just like the dishes he serves. It is amazing that he is actually willing to disclose and discuss his ingredients, seemingly unperturbed that others might steal or imitate his ramen dishes. Or perhaps he has reason to be confident: When you are the best, and you know you are the best, there is no reason to be insecure.
Perhaps most interesting to me, however, is how Tomita runs his ramen shop. It is important, I think, that the work bothers to catch details that make up the entire establishment, not just what is put on the plate. Highly observant viewers will note that the apprentices are worked so hard, not even the presence of a film crew puts a smile on their faces. At one point, one of them makes the mistake of not being aware of his surroundings so he is sent outside by his boss to take a break. The film, too, makes a note of their long hours and what is expected of them when the last customer walks out the door. We get the impression that a top ramen shop is not just about the right mix of surprising ingredients. A strong work ethic is required.
While moments of happiness can be seen when the apprentices are interviewed, their honesty is most informative. It is apparent that their boss is tough, strict, and has very high standards. And yet—these apprentices choose to hold onto their jobs. The reason, I think, is not because of the shop's success. Or that they just need the money. From their body language, at least with most of them, I think that they feel as though it is a place where they can learn a lot, not just in terms of being of service to customers but also in how to run a business, the balance of discipline and openness that one must learn to master.
"Ramen Heads" is not just about watching people make or eat ramen. It offers a look into a specific lifestyle—surprisingly educational for an amusing premise. I enjoyed, too, that the picture takes a few minutes to visit other ramen shops so we can have an appreciation of what type of ramen they specialize in, the personalities that run them, and the type of customers they attract. Sometimes it is about the flavor. But there are times when location matters more or how many seats a shop offers. (For instance, Tomita Ramen can seat only ten customers at a time.) Those who appreciate details are certain to be entertained by this most colorful portrait.