Girlfriend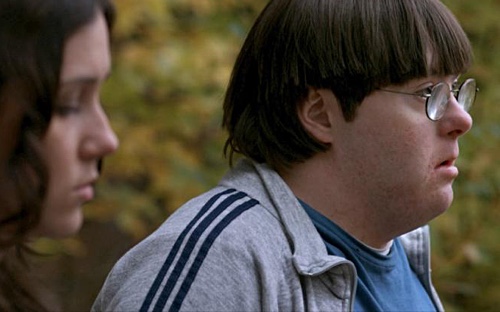 Girlfriend (2010)
★★ / ★★★★
Celeste (Amanda Plummer) made the decision that she no longer wants to live. The problem is, now that she is dead, the household is left to Evan (Evan Sneider), her son who happens to have Down syndrome. Evan does not have very many friends, mostly people who feel as though they have to be nice to him due to his genetic disorder, despite the fact that he is a friendly guy. He has a crush on Candy (Shannon Woodward), a young mother who is having trouble paying the rent and under the watchful eye of her jealous ex-boyfriend (Jackson Rathbone).
"Girlfriend," written and directed by Justin Lerner, is a brave dramatic picture but it does not provide the necessary layers to pull off a consistently engaging story of a person who is left behind and clinging onto a fantasy that he has a girlfriend. I liked that Sneider, who has Down syndrome in real life, is front and center and there is no compromise. However, there are a few of strands, potentially ripe for exploration, that are introduced but never given proper attention. Questions linger in our minds which distract as the material moves forward.
Not once did I believe that Evan is able to live independently. After his mother's passing, there are about half a dozen images designed to make us think that he will not be able to make it on his own for long. We are concerned for his well-being. However, when the relationship between Candy and Evan kicks into full gear, the survival subplot is thrown out the window. There is no transition. Did Evan learn to take care of himself and the responsibilities around the house after a day? A week?
In addition, since not one character bothers to bring up the idea that maybe Evan is not fit to live by himself, I had a difficult time buying into the reality of the story completely. Did no one really care about him or are the people around town simply not knowledgable about those with Down syndrome? Either way, I felt as though the screenplay cheats by avoiding the obvious.
Evan's crush on Candy is presented with enough honesty. When it gets things right, it is enlightening but when it gets things wrong, it is borderline creepy or offensive. I consider it a good thing that I never made up my mind on how to feel about Candy. A case can be argued that she is simply using Evan because he is able to provide her money that she desperately needs.
Without that money, it is doubtful that she would choose to interact with him for long. Most of us will get the impression she is that kind of girl. On other hand, she is interesting because she is someone who is quickly running out of options. If we were in her shoes, would we have done the same: take advantage of someone's innocence and kindness not out of malice but out of desperation? There are no easy answers.
The film captures the look of the small town, the people in it, the clothes they wear, and their lifestyles, but I was not emotionally invested in the unfolding of what should be a moving story because the reality we are provided is not a complete picture. If anything, "Girlfriend" supports that intimate, small-scale dramas can be very tricky to pull off. You can probably get away with disregarding one big detail, but overlooking several costs the material the necessary believability.