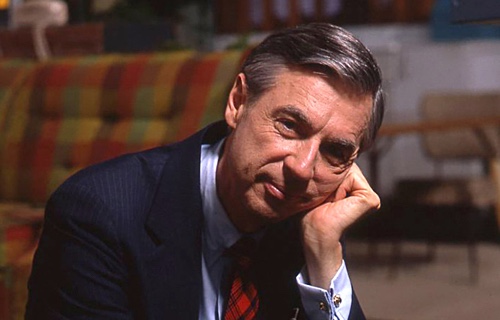 Won't You Be My Neighbor? (2018)
★★★★ / ★★★★
It is a testament to the documentary's power that although I have no emotional attachment to Fred Rogers, the host and creator of the beloved "Mister Roger's Neighborhood," or his television show, I was fascinated and grew to care for both the man and the series. Director Morgan Neville understands that it is not enough to talk about the subject's influence or to simply show clips of him behind the scenes or in front of the camera. No, it is imperative to show Mr. Roger's raw power. It is most appropriate that it happens early in the film: Mr. Rogers looks to the camera—almost through it, really—and addresses the inner child in all of us. I don't remember the words he used but I remember the way he looked at me, at us. There is an honesty in those eyes, a warmth, a willingness to listen and impart wisdom.
The film is well-paced as it weaves in and out of Rogers' childhood, his relationship with religion and God, the various stages of his career, and some of the controversies brought up by people who are unable to define or label him. These are punctuated by interviews with Rogers' family, friends, and former colleagues. But most intriguing are clips of the man relating to another human being: the way he looks at them, touches them, how he carries himself around them. If the film were merely composed of clips involving Rogers simply connecting with others, it would be a fascinating work regardless. The power of the work, you see, is not in words but in thoughts, feelings, and possibilities.
Rogers' motivation to create a television series for children is compelling. I admired how the picture highlights the trends of programs aimed at kids from the mid- to late-'60s and onwards. While cartoons, comedies, and variety shows tend to speed up, Rogers decided to use time in his program as a tool to slow down; to breathe; to ponder, consider, and learn. Instead of showing people's faces getting smacked by pies, he shows how a turtle crawls across a mat. Instead of showing violent cartoons, he employs sock puppets to express deep thoughts and philosophical musings, not at all unlike ideas and questions that children ask about themselves, of people around them, of current events that are unfolding.
Underneath the relaxed nature of the documentary, there is a sense of urgency that juts out from time to time. It implies that since the show's bow in 2001, there has been a void when it comes to such programming for kids. And it makes for a compelling case. I grew up with Disney, Nickelodeon, and Cartoon Network shows and movies—not one of them offers a high level of insight or courage when it comes to tackling questions or subjects that really matter. I was amazed that "Mister Roger's Neighborhood" dared to discuss topics such as racism, divorce, death, and even how it feels like to have crippling self-doubt. It made me want to look into the show—entire episodes, not just clips—and see how they are handled. I caught myself thinking that surely there must be an archive of all the episodes because the show is willing to construct a bridge between parent and child so that they are more able to discuss difficult or controversial subjects.
This captivating documentary is about a creative, hardworking, and passionate man who looked at a television and recognized that it could be used as an empathy machine. Look at the way children are so enthralled when Rogers is in the room even without the puppetry. He never looks down on them, he is not afraid to employ multisyllabic words, he goes by the assumption that the children are smart and engaged. His body language is welcoming and upbeat. Children can read nonverbal signals exceedingly well. It is easy to see why Mr. Rogers became a household name for many Americans.