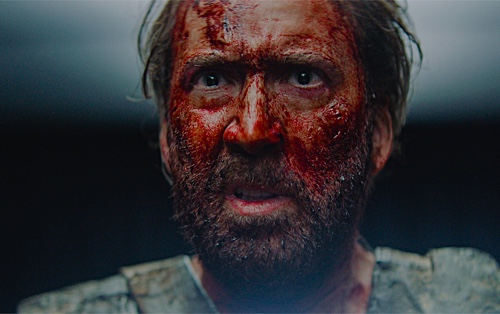 Mandy (2018)
★★★ / ★★★★
Surrealistic revenge thriller "Mandy," written and directed by Panos Cosmatos, is to me, both a coal and a diamond in that, in a sense, it is equally student film and metal rock—bizarre and frustrating but cathartic and oddly compelling. After the final frame, I felt as though it is the movie that the writer-director wished to make and, although a trial to sit through at times, I cannot help but respect the final product. This is a project that will not appeal to most audiences, especially the modern variety, and it is self-aware that it isn't for them. More filmmakers should follow suit.
The presentation is forceful and off-putting. For instance, it has the tendency to employ extreme coloring—particularly shades of red—to the point where the viewer is forced to wonder whether we are peering into a nightmare or hallucination. Wholly appropriate because, in a way, the story is supposed to embody a feeling of one descending into the depths of hell as the main character attempts to complete his gory vengeance, the wild use of color palettes eventually fuses into the marrow of storytelling. I found it surprising that the approach somehow manages to complement the cartoonish violence—sometimes shocking, occasionally funny—that is heavily influenced by the more unpleasant but endearing '80s sci-fi flicks.
It has been years since I have seen Nicolas Cage utilize his crazy facial expressions in an effective film. In the past five to ten years, I have preferred to watch him in quiet dramas where his emotions are controlled and captivating. Here, the veteran actor is allowed to run wild and just about every second of his performance works. He makes us believe that his character, Red, is so willing get even with his wife's killers (led by the cult leader Jeremiah Sand played by Linus Roache) that his own life is of no value. Red died in that same fire that consumed his wife (Andrea Riseborough).
So many independent movies use drug-induced images to shove audiences into particular mindsets, especially when the screenplay is so limited, like lacking the ear for dialogue or the means to unspool more demanding action sequences. Cosmatos takes it a step further by subjecting us into experiencing specific feelings. When a character is afraid, for instance, images are hallucinatory but the editing is quite fractured. When someone dreams, we observe wordless animation. When someone's rage takes over, these feverish images fade away. Tension builds just as quickly as embellishments fade way. Clearly, careful thought is put into how various styles ought be used to create a specific experience that makes sense.
I am more than willing to call bad art as trash, but "Mandy," even though it can be a challenge to sit through at times due to its languid and uneven pacing, does not belong under such category. It works for the most part because there is conviction behind the strange images and circumstances, supported by a solid lead performance. In the middle of it, I wondered about Cosmatos' versatility as writer-director. It would be interesting to see what kind of movie he would make should he be forced to abstain from psychedelic images to support his storytelling. I think he has it in him to create, for instance, a straight-faced drama; the decorations, like the visual kind, simply must be channeled in a different way. He's one to keep an eye out for.