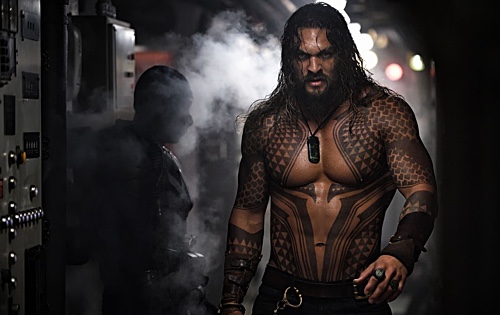 Aquaman (2018)
★★★ / ★★★★
"Aquaman" brings to mind Playstation RPGs in the '90s: a reluctant protagonist with a calling, journeying across vast landscapes, nail-biting boss battles, fetch quests, and an impending war between worlds looming in the background. But what elevates the material from becoming a video game under the guise of a superhero film is James Wan's energetic direction. He embraces groan-inducing jokes, silly one-liners, and ludicrous scenarios like a couple deciding to kiss in the middle of a battlefield with aplomb. What results is a work with a distinct personality—certainly entertaining—even though there are moments when plot developments fail to command a lick of sense.
It is said that a superhero movie is only as good as its villain. Patrick Wilson plays King Orm, half-brother of Arthur/Aquaman (Jason Momoa—clearly having a blast with the role) who wishes to unite four underwater kingdoms before raging war against those who live on land. To my surprise, I found his motivation to be practical—humans have trashed and polluted the oceans so badly over the years that it is a fact that our activities have negatively impacted marine populations and biodiversity. Orm is not painted to be evil for the sake of having an antithesis to our hero; he simply wishes to do right for those whom he represents and doing so requires absolute force. Orm is a curious antagonist, somewhat undeveloped, but I wished he, too, like the title character, were given an equally colorful personality.
The screen is filled to the brim with overwhelming visual effects. There is almost always something to gawk at, from hundreds of sea creatures making their way toward Atlantis, stumbling across a hidden kingdom underneath the Sahara, to a bizarre but inspired moment in which an octopus is shown playing drums. A character may stand still but her thick red hair is always flowing beautifully. And these are the calmer moments. Busy action sequences take place underwater, in the air, and even underground.
Particularly impressive is the rooftop chase in Sicily where Arthur and Mera (Amber Heard), the latter betrothed to Orm but knows her future husband is not fit to be a king and a leader, are located by the enemy while in the process of searching for a legendary trident that would grant great powers to the person who wields it. This sequence is particularly challenging for two reasons. First, it must balance thrill with comedy. Look closely and realize there are slapstick jokes thrown about—appropriate because the water-based hunters are not accustomed to moving on land.
Second, we follow two protagonists that have been separated—one dealing with a handful of weaker enemies and the other faced with one incredibly formidable foe. With the former group, it is impersonal. But with the latter group, it is personal because for one of them, it is about revenge. Each confrontation must be directed and edited differently. And I admired that the filmmakers are aware of the importance of keeping things fresh. It is not about delivering violence and explosions but the entertainment created during the buildup.
The film offers a good time, not a smart time or even a sensible one—and there is nothing wrong with that. I enjoyed "Aquaman" because those who shaped the project prove knowledgeable of the genre's weaknesses… and strengths. Perhaps more importantly, the director puts his own stamp on the work. Keep in mind that Wan specializes in horror films. Watch carefully as Arthur and Mera reach The Trench—a place where sea creatures are sent to be sacrificed for their crimes. Note how numerous horror imageries—the storm, monsters increasing in numbers at an alarming rate, how these creatures move, how hungry they look—take over the screen. It is a literal descent to hell. It is clear that without the director's vision, creativity, and execution, the final product would have been just another DCEU blockbuster with little to no personality.