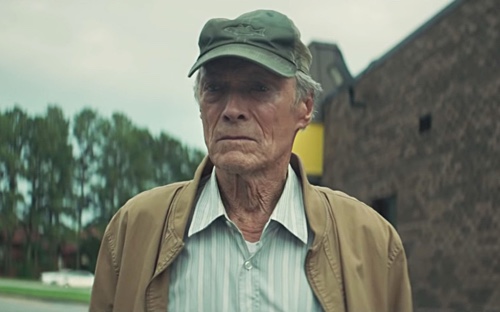 The Mule (2018)
★★ / ★★★★
"The Mule" attempts to deliver a moving family drama and a suspenseful dance between a ninety-year-old drug courier (Clint Eastwood who also directs the picture) and a hotshot Drug Enforcement Agency agent (Bradley Cooper), but it succeeds at neither. The reason is because the material lacks the necessary subtlety so that lessons about family and personal responsibilities seep through both strands in a way that surprises us. As a result, although the film offers strong performances, especially by Eastwood and Dianne Wiest, the latter portraying the former's ex-wife who has had it with decades of the man's absence as a husband, a father, and a grandfather, the work offers neither excitement nor freshness.
Nearly every point about Earl Stone, a Korean War veteran, is handled with a hammer, from the way he treats his family—and the manner in which they treat him—to the rapport he builds with various members of the cartel. Initially, it is entertaining because the man lacks a filter. For instance, he makes pointed racial jokes so often that we wonder whether eventually a person might take it the wrong way and decide to put a gun on his face. But there are jokes about him, too. His age is a source of humor but so is his obstinacy. Pardon the pun but the usual tricks grow old eventually.
Halfway through, one cannot help but realize that the screenplay by Nick Schenk has gone on autopilot. While I enjoyed that the film actually takes the time to establish the subject's usual patterns of drug transport, it grows repetitive by the fourth or fifth run. It gets interesting only when wrinkles are introduced such as Earl getting handler (Ignacio Serrichio) because the boss (Andy Garcia) is so impressed that the old man is able to deliver over a hundred kilos of cocaine every run without arousing suspicion. (The man has never gotten a speeding ticket—impressive especially given the fact he has driven across forty-one states.) The relationship between Earl and the handler is interesting at times, but it never gets a chance to take off since the plot is too busy juggling Earl's family problems and the DEA closing in.
Regarding the investigation, there is not much of it—lukewarm at best. Cooper's character is shown taking pictures from afar, putting pressure on a metrosexual informant, and keeping his cool when mistakes or misinformation lead to relatively small arrests. But we never see the man pushed to his absolute limit. I was not convinced of his formidability as a person without the badge. So when Agent Bates and Earl finally meet, there is only minimal tension. Performance-wise, Eastwood steamrolls over Cooper not because the latter is incapable of holding his own but because he does not have much to play with. As Earl must remain interesting whether he is on the job or with his family, the man hunting him must be equally absorbing as well.
We all know the importance of family and so when a mature drama comes along, especially one based on an incredible true story, it is expected that the lesson be explored in meaningful ways rather than simply resting on platitudes. While not short on personality, "The Mule" lacks specific details that help to turn the work into something memorable and special.