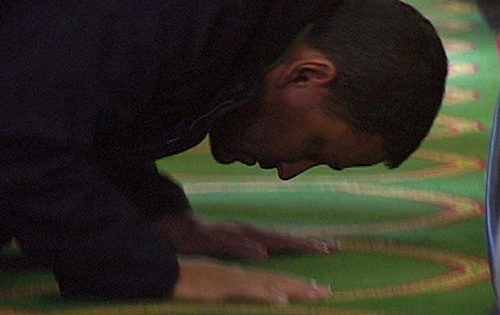 A Jihad for Love (2007)
★★★ / ★★★★
"A Jihad for Love," directed by Parvez Sharma, gives us a peek into the lives of Muslims who happen to be homosexuals. Since it widely believed, from the common people to high scholars, that the Quran forbids homosexuality, Muslims who love and are devoted to their religion, Islam, who also consider themselves a part of the LGBTQ community are marginalized, punished, and condemned. Others are put to death.
I do not know much about Islam or what is or is not stated in the Quran, but what I do know is that the Muslims that I have met are kind people. So when I learn about acts of violence toward homosexuals and other minorities related to the Islamic culture in the news, I cannot help but wonder and ask questions. How is life really like for LGBTQ people on the other side of the world? When confronted with questions about homosexuality, how will people who have studied the Quran for many years respond to them?
The documentary lays out the essence of the religion and its followers but only to an extent. Its main focus is on the struggle of those who are treated as outcasts as well as their personal endeavors when it comes to reconciling their theology and being gay.
Particularly memorable is Muhsin Hendricks. He is out of the closet in a very public way and we listen to the radio broadcast of people calling in and expressing their outrage. Some say he, an embarrassment, has no right to be calling himself a follower of Allah. Others demand that he receive physical punishment or be put to death. When he asks his daughters, aware of their father's homosexuality, if they think gay people should be put to death, the way they answered, not necessarily the content of their responses, is heartbreaking. They are torn from having to choose between their inherent feelings for their father and what they are taught to believe is right or true. A lot of us are not required to make a choice.
Maryam is a lesbian who, in my opinion, clings onto semantics and contradictions in order to be able to live with her sexuality. According to the sacred writing, sexual relations between people of the same gender, specifically between men (never mind the intended context from when it was written), is forbidden. She says she allows herself to love another woman without the physical act—sex—that comes with the relationship. In essence, because she abides by the technicality, she is not committing a sin in the eyes of God.
We may not understand or agree with her point of view completely, but the film does a good job capturing her sadness. We are allowed to sympathize with her. We recognize that she is trapped and perhaps will remain that way for the rest of her life.
The film stays away from showing physical violence committed against homosexuals. The daggers are embedded in the words, the intonations, and the looks given by a respected elder to the homosexual sitting a couple of feet from him. Gay Muslims having to find refuge in other countries out of concern for their safety, as well as their families', and then later talking about how they miss home and their loved ones via telephone pack a sting, too.
One of the subjects asks, "Why do [people] think the sky has to be the same color for everyone?" It is an excellent question. But I think the reason is this: a lot of people define their lives by following the "right" thing even if a part of them feels that a longstanding rule or belief might be wrong. It is more convenient to overlook or to ignore or to lash out than to consider a challenge, to think about it critically, and to engage in a calm and fair evaluation. Such is the dark side of blind faith.