We the Animals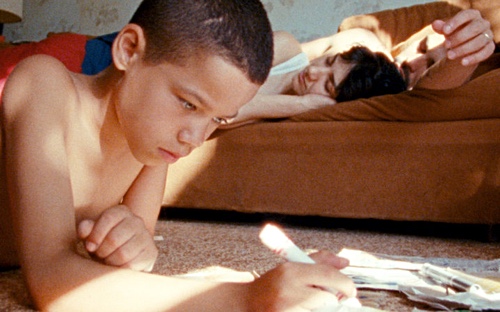 We the Animals (2018)
★★★★ / ★★★★
Like a most unexpected but pleasant kiss, Jeremiah's Zagar's "We the Animals" surprised me for its willingness to paint a snapshot of childhood without relying on dialogue. Instead, this beautiful and captivating picture relies on impressions, initially similar to Terrence Malick's "The Tree of Life" but one that eventually dares to forge a path of its own. Going into it blind, about halfway through, it made me wonder whether the story was based on the director's own childhood. The reason is because every second of it feels so detailed and so personal, particularly the boy's painful realization that he is different than his family and that their love may not be unconditional.
Imagine my surprise then when I found out that the work is actually based on Justin Torres' debut novel of the same name. Zagar and fellow screenwriter Daniel Kitrosser have done such a terrific job adapting the story and putting it on screen that I had mistaken the work to be a telling of the director's own experiences as a boy. There is no higher compliment.
The film offers a richness of visuals. I am not referring to special and visual effects more often found in loud, busy spectacles. I am talking about the strength of personality put into the images. A boy walks into a grave and imagines his spirit being elevated to the sky. A traumatizing drowning incident. The sheer shock of seeing pornographic infomercials for the first time. Mother's bruised face (Sheila Vand) during one's tenth birthday. Father's temper (Raúl Castillo) and losing his job. A boy's most valuable possession—a notebook where he writes his thoughts, hopes, and imaginings—suddenly missing from its hiding spot. Verdant green of summer overtaken by a blanket of snow. Even the passing of time demands attention.
It is critical that images like these are memorable especially because words are not often utilized. When people do speak, at times the words cannot be heard completely, from screaming matches to mumbling out of shame. Non-English language does not get translated. (The mother is white American and the father is Puerto Rican.) The images themselves must tell a story—the correct approach because most of our childhoods are defined by strong impressions, not necessarily words unless, of course, what someone said had created a lesion in our memories. Words, too, can be unreliable; can you remember word-for-word what someone had told you a mere hour ago? How about ten minutes ago? At its purest, the movies is a visual language.
The brothers are played by Evan Rosado, Josiah Gabriel, and Isaiah Kristian. The young actors play their characters with matter-of-fact enthusiasm. Most enjoyable are moments when they are clearly not acting but simply enjoying one another's company… they just so happen to be in a movie where a scene, for example, catches them at play. Rosado is a clear standout not because he plays Jonah, the central protagonist, but due to the fact that his eyes appear to be always thinking, processing, considering. This is a quality, I think, that cannot be taught and performers who ended up having decades of experience have a similar look in their eyes back when they were just starting. Needless to say, Rosado has a bright future ahead of him should he want it.
The experience of watching "We the Animals" can be described as dream-like or semi-impressionistic, but I feel that these words may repel audiences with more mainstream palates. I prefer to refer to the experience as seeing the story through the memories of a child who is learning to recognize and accept his own identity. Notice that in the beginning the three brothers look so alike, it can be a challenge to discern one from the other, especially the middle child and the eldest who clearly have the stronger bond. The more you look at it closely, the more there is to appreciate.