Kin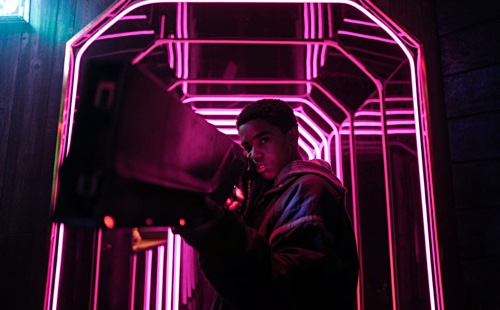 Kin (2018)
★★ / ★★★★
The final fifteen minutes of Jonathan and Josh Baker's hybrid of family drama and sci-fi action is so exciting, it manages to open up new possibilities for a sequel. It is most unfortunate then that the journey to the finish line, although entertaining in parts, is tonally off and its pacing uneven. As a result, instead of embodying an increasingly suspenseful road picture in which the bad guys must catch up to the good guys, tension ebbs and flows like clockwork.
The circumstances around two brothers, Eli (Myles Truitt) and Jimmy (Jack Reynor), having to escape Detroit and head toward Lake Tahoe is interesting enough. There are thugs to be paid (James Franco), alien technology to keep secret, and a father (Dennis Quaid) who wishes to raise his younger fourteen-year-old adopted son (Truitt) as a moral young person while at the same time giving tough love to his biological son (Reynor) who had just been released from prison. If it sounds like I am trying to be vague, it is because I am. Part of the entertainment is observing how these disparate elements come together. I enjoyed all of the performances.
Less delightful is the manner in which the main villain is written. Franco is driven by revenge, but there is no substance to the leader of the thugs—strange because this is a work that is better off trimmed about fifteen to twenty minutes. There are numerous pockets here and there—filler—where the material ought have developed the man who is owed a life—so he believes—and sixty thousand dollars. Screenwriter Daniel Casey decided to go the easier route: turn the character into a homicidal madman. Franco is happy to supply the energy and antics. It is not that interesting when it is clear that the antagonist is not that formidable, especially since our heroes have the alien technology in their hands pretty much the entire time.
While the movie is an adventure first and foremost, I felt the material holding back on making social commentary. Surely a black kid in Detroit, currently suspended from school from fighting, simply accidentally coming across a gun and then dealing with the authorities is no accident. Its inclination to play it safe, ironically, rubbed me the wrong way. At one point I wondered whether this decision is done so that the content could be embraced by the mainstream with ease. But that's the thing: If the filmmakers were confident in the story to be told, sanitizing the work would be unnecessary—as is the case here. When it comes down to it, it is a thrilling story—so why not just go for it? Make these characters as complicated as real people. Great films are above political statements anyway.
The special and visual effects are first-rate. Never ostentatious for the sake of colors dancing across the screen or simply to make loud noises, I appreciated its overall feeling, its good nature and optimism, despite the action. There is humor sprinkled about. This does not mean, however, that we do not see bodies get obliterated by the weapon of interest. It is sanitized, surely, but the Bakers brothers did not forget that their work will likely appeal to pre-teens, too.