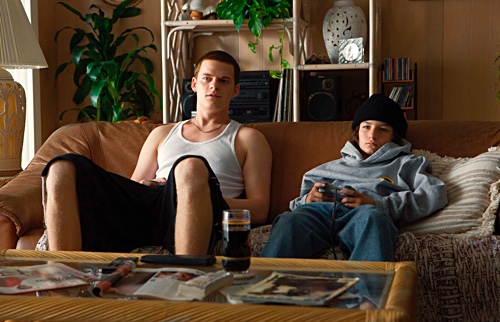 Mid90s (2018)
★★★★ / ★★★★
"Nostalgic" is the word that is likely to sprout from viewers' minds as they sit through Jonah Hill's debut film "Mid90s." Perhaps the work is even asking for it. The opening shots, for instance, are keen on showing clothing brands, toys, CDs, and video games that were popular at the time. Even the way the images are photographed, bathed in typical '90s graininess, are reminiscent of '90s independent cinema in which a sense of realism, one can argue, is a character in and of itself.
But these objects and stylistic flourishes are not what makes the film special. It is most surprising that the picture is peppered with tender moments that communicate paragraphs even when the characters in focus are, for the most part, silent. It is without question that these moments are earned; because we have an understanding of the people involved, there is no need for expository dialogue in order for the drama to be appreciated. And when words are used, they cut right to the point and there is nowhere to hide. Both the characters and viewers are confronted with an experience, possibly even exchanges that they may take with them for the rest of their lives.
It is curious in that the protagonist is a thirteen-year-old who simply wishes to belong, but a case can be made that he is not the most interesting character. Stevie is played with effervescence by Sunny Suljic; I was surprised to have found out that he already had several acting roles under his belt prior to this film because he excels in simply being in front of the camera. He is our conduit to a more interesting group of people—four older teens (Na-kel Smith, Olan Prenatt, Gio Galicia, Ryder McLaughlin) who spend every day skateboarding, hanging out, smoking, drinking, and going to parties. Two of them have curious nicknames—Fuckshit and Fourth Grade—and the remaining are called by their birth names Ruben and Ray. Because of how they look, how they dress, how they speak, and how they act, we assume we know everything there is to know about them.
This is the point in which Hill's screenplay shows its strength. When they hang out, we feel like we are hanging out with them because of the humor. Yes, some of the jokes they make are stupid—which is the point—but there is a rhythm in how the group dynamics change over time. A few banters are laugh-out-loud funny. Throughout the course of the picture's eighty-minute running time, friendships—plural—evolve over time. It is not just Stevie befriending a group; it is Stevie getting to know each member of the group. Like Stevie, our opinion of each one changes naturally. Compare this to safe and commercialized movies aimed for children or teenagers that are required to have proclamations involving the importance of friendship following forced dramatic turns. The effortless chemistry among Stevie and his friends are far more convincing and real.
Curious, too, are confrontations that happen at home. Stevie's mother (Katherine Waterston) is barely around but when she is, her presence gives the screen a jolt. We already know how she will react once she finds out who her son has been hanging out with. However, it is the brother, played by Lucas Hedges, who is perhaps most enigmatic. He is physically violent to his younger brother, yes, but we wonder immediately why he is this way. There is a conversation between brothers while playing video games that might explain why Ian feels the need to dominate. But perhaps not. The most fascinating of Stevie's friends, Ray (Smith), who dreams of becoming a pro-skater, makes a case that environment does not define a person.
"Mid90s" is not everyone's childhood. It is far from mine. It is without question, however, that there is value in it. Like many coming-of-age pictures that stand the test of time, it is first and foremost an examination of one person followed by material written so sharply, and with great empathy, that we find ourselves deeply invested in this person's story. We want to know not only the protagonist but also his friends, his family, his home; the type of teenager, young adult, and mature person he might become. At one point, I thought it would be intriguing to revisit late-teen Stevie.