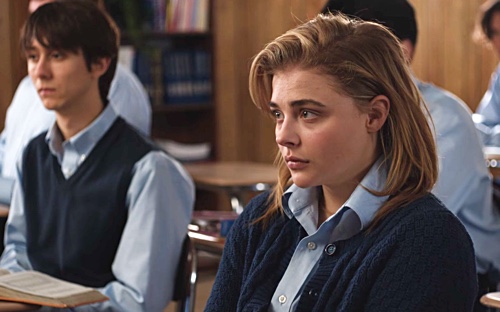 The Miseducation of Cameron Post (2018)
★★ / ★★★★
The title of the film suggests that the protagonist will take an active role in the story, but it turns out Cameron (Chloë Grace Moretz) is more like a ghost that just so happens to be walking through a gay conversion therapy centre. It is most bizarre and bewildering that for a subject matter that is so important—that is, that such institutions are not only ineffective in "curing" homosexuality, these morally corrupt places actually teach their victims how to hate themselves—the screenplay by Desiree Akhavan and Cecilia Frugiuele, directed by the former, chooses a passive, often boring, approach. What results is a drama that never takes off, only occasionally saved by performers who know how to captivate the screen with seemingly little effort.
God's Promise is led by a strict therapist played by Jennifer Ehle. According to Dr. Marsh, homosexuality does not exist because God does not make mistakes. Some people merely have "gender confusion" and those struggling with it are the ones to blame. She is an interesting character because Ehle does not play the devout Christian as a straight-up villain; we get the impression that she is genuine in believing, or has trained herself to believe, that the program (i.e.: brainwashing) actually helps the residents. Dr. Marsh creates a big echo chamber, if you will, and those who do not bend to the rules, regulations, and expectations are likely to break. I appreciated that the experience in God's Promise is specific enough so that it stands out among familiar places in other films that tackle a similar subject.
The picture is a challenge to get through, however, because the main character is often a bore. There are flashbacks that show snippets of Cameron's history as a teenager who might be a lesbian (the material leaves open the possibility that she is willing to experiment sexually with other females—she just happened to get caught), but not a single one is so effective that it leaves an imprint about the character, who she is outside of her attraction to females. We even get to meet one family member but there is no dimension to her. It is the typical religious figure who does not understand homosexuality but it is convenient to dump a loved one in a place that promises a remedy and redemption.
And while I enjoyed that it is a different role for Moretz, I was unconvinced she is a good fit for the role. There is often romance on her face when a certain occasion calls for anguish, for example. When tears do come, I did not believe the emotions that triggered them. Cue the well-lit room and the somber score meant to make us feel gloomy. It is all so predictable—but it should not be since there are not that many pictures that take place in a gay conversion therapy program.
Humor is the saving grace of "The Miseducation of Cameron Post" and is often filtered through Cameron's interactions with the "disciples" she befriends (Sasha Lane, Forrest Goodluck). The comedy is not always obvious or riotous but subtle and sarcastic. Sometimes when you find yourself stuck in a desperate situation, there is no choice but to laugh or make fun. It is a survival mechanism. And it is ridiculous, the "disciples" being in that horrid place, forced to change when there is nothing wrong with them in the first place. The chemistry among Moretz, Lane, and Goodluck is so convincing, I was at a loss why their friendship is not delved into further.
I admired the material's compassion, but the execution is lacking.