Think Like a Man Too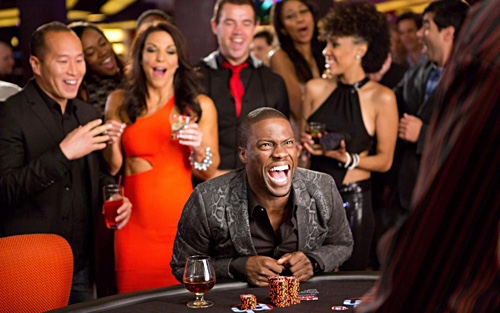 Think Like a Man Too (2014)
★ / ★★★★
Candace (Regina Hall) and Michael (Terrence Jenkins) are getting married in Las Vegas which means that the night before the big day is a bachelor and a bachelorette party. The best man (Kevin Hart) and the main of honor (Taraji P. Henson) take control of the parties, respectively, which means a wild night is in store for their friends—until it is not because the screenplay by Keith Merryman and David A. Newman fails to inject anything new, fresh, or exciting into this limp sequel.
With such a talented roster of performers, I was at a loss why I didn't laugh more. Looking closely, part of the problem is the jokes not lacking punchline but lacking build-up. For instance, although Hart, who plays Cedric with pure energy, is able to hit our funny bones from time to time, his motormouth approach to the character never changes gears. It isn't that he is wrong for the character or he is front and center too often. The fault it is the writers not coming up with ways for us to care about the character. As a result, Cedric is reduced to a caricature and caricatures cannot sustain a whole picture.
There is a subplot involving Michael and Candace's friends being anxious to commit. For a while, I was entertained by Zeke (Romany Malco) being recognized by so many of his former girlfriends—many of them still very upset with him—while his current girlfriend, Mya (Meagan Good), is shocked by her beau's… popularity. While Zeke's womanizing past is a good enough template to launch the couple questioning whether or not they ought to get to know each other more before getting serious, we get only a scene at the end where Zeke tells her how committed he is to Mya. Why not show it instead? Because it would have required the writers to put in a little effort.
Another subplot—although "afterthought" is a more accurate term—is Kristen (Gabrielle Union) and Jeremy (Jerry Ferrara) trying to conceive a child. Although they both are beautiful together, they are reduced to a one-note joke: Jeremy complaining that he is having too much sex because Kristen really wants to get pregnant. Are these two ready to have a child? Such an elementary question is never answered. Have they ever considered alternative options if they could not conceive? However, they do have one hilarious scene which involves a nudge to "Game of Thrones."
The all-night party for both camps should have been more fun. Naturally, there is dancing, alcohol, and getting into trouble with the cops but none of it comes across as effortless. As the film goes on, I got the impression that it is merely scratching items off a checklist. There is a stereotype of a Vegas experience and the material rests on reflecting that. Some of my visits to Vegas are much more fun than what this picture offers—and I do not consider myself to be that wild.
Directed by Tim Story, "Think Like a Man Too" is as bland as poorly baked tofu. This is most surprising because its characters are mostly people of color. As a person of color myself, I really wanted to see a culture represented accurately on screen—even if it is from a comedy that you can forget ten minutes after it is over. Because being shown on screen accurately in a bad movie is still better than being showcased as bland wallpaper in a bad movie.