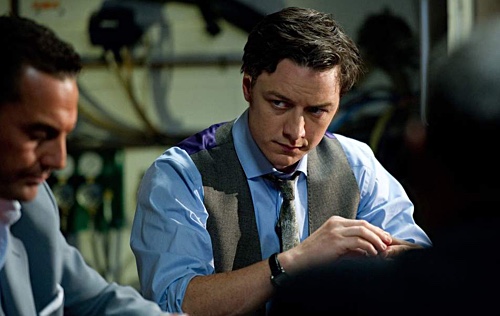 Trance (2013)
★★★ / ★★★★
The heist, needless to say, does not go as planned. During the chaos amidst toxic fumes and people rushing to the egress, Simon (James McAvoy) was supposed to peacefully hand a multimillion pound painting to Franck (Vincent Cassel). Instead, Simon attacks Franck which leads to the former being struck on the head with a gun. Meanwhile, the latter thinks he has gotten away with the painting, but when he actually opens the container in his hideout, it is empty. Simon, now considered a hero by the media for attempting to stop the thief, is not better off. Because of the hard blow to the head, he cannot seem to remember where he hid the painting.
"Trance," written by Joe Ahearne and John Hodge, is surprisingly successful given that it has a myriad twists and turns where some of the answers remain vague for the most part. It could have been just another gimmicky heist picture where not one character can be trusted, but underneath it all is a passion for storytelling. Red herrings are aplenty but the material actually welcomes us to want to get to know the deceitful people on screen.
It runs from its cage at breakneck pace without being incomprehensible. It is a challenge to figure out how the pieces of the puzzle fit together but they are all there so we do not feel cheated. In particular, I enjoyed trying to figure out which courses of action the characters may regret later. It is an engaging thriller because it sticks with the template that when something is going right a little too much or if getting something seems too easy, you get an uneasy feeling that it will all fall apart in a matter of seconds. Even though we expect them, the pitfalls hold excitement.
The three leads—McAvoy, Cassel, and Rosario Dawson as a psychologist who has been hired to induce hypnosis on Simon in order to help him remember the location of the painting—look appealing on camera and share good chemistry. They play their respective characters with a level of mystique and sex appeal which makes them dangerous. And because we are made to understand that they each have an endgame, one relying on smarts over violence (or vice-versa) over others, we are curious who will come out on top. Who should is an entirely different question.
Some may be repelled with the director's techniques. He has the tendency to put too much on screen that it ends up distracting at times. For example, there are scenes running together—one involves the reality of the hypnotherapy and the other takes a look into Simon's fantasy—which are coupled with music that demands attention as well as a gamut of colors where certain shots look like they ought to be framed and put in an exhibit. While the director is no stranger to playing with kaleidoscopic media, sometimes simplicity is the best approach. There is merit to claims that the picture can be overwhelming at times.
Directed by Danny Boyle, "Trance" requires complete attention to be understood. Even so, that still may not be enough to see how all the pieces fit together. There is great energy emanating from and within the twisty events and so entertainment value remains consistent.