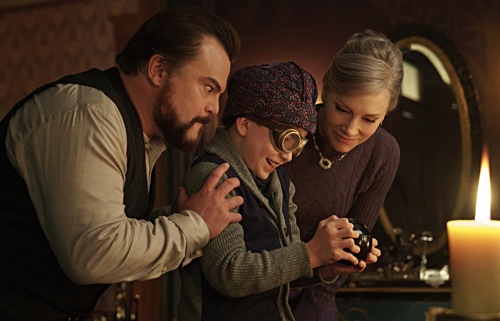 The House with a Clock in Its Walls (2018)
★★ / ★★★★
To its credit, "The House with a Clock in Its Walls," directed by Eli Roth, fires on all cylinders right from its opening moments. From its ostentatious display of special and visual effects, dialogue clearly written to entertain young children, to the hyperbolic—sometimes cringe-inducing—acting, it brings to mind direct-to-DVD fantasy-comedies of the '90s. But this comes with a cost: the inability to slow down and convincingly create a portrait of a dysfunctional family who just so happen to have magic right on their fingertips. Here is a film in which enchantment is consistently placed on a higher tier than heartfelt human connections.
Recently orphaned Lewis (Owen Vaccaro) is sent to live with Uncle Barnavelt (Jack Black) whose home, according to word around school, is a murder house. Inside is palatial but strange: chairs make puppy-like noises, images on paintings change suddenly, and clocks are everywhere. In the middle of the night, Lewis finds his enthusiastic uncle placing his ears on walls, as if in search of something. There is even an instance when Barnavelt destroys a wall with an axe. The upside of living in a so-called slaughterhouse: there is no bedtime, eating vegetables is not required, and uniqueness is highly encouraged. There are numerous books on magic in the library.
Amidst the razzle-dazzle of magic spells we are asked to empathize with ten-year-old Lewis, especially how lonely he feels in a house so full of wonder and in a school that celebrates normalcy and popularity. This is when the picture is at its weakest. The screenplay by Eric Kripke is so busy providing superficial entertainment, not enough effort is put into making even slightly believable characters. Nearly every person, including Lewis, is a walking exaggeration. After a while, the quirkiness becomes numbing, peculiarities are reduced to boredom.
The sole figure who commands genuine fascination is Mrs. Zimmerman, Uncle Barnavelt's next-door neighbor, best platonic friend, and partner-in-crime. She has lost a child and, in a way, she has not finished mourning. This affects her magical abilities. Mrs. Zimmerman is played by Cate Blanchett whose dramatic power is able, at times, to overcome a frustratingly simplistic script. Blanchett can simply look at the boy and there is a story in her eyes. The character may be elaborate on paper, but the performer is always in control of how we see her.
The relationship between nephew and uncle is severely undercooked. And so when the inevitable dramatic moment arrives, which involves the former employing forbidden blood magic to impress a boy from school (Sunny Suljic) and the guardian expressing great disappointment, we are not convinced. The material trudges on while our protagonists are in emotional pain, but we are left wondering why we do not feel more invested in the conflict. I think it is because the writing does not have enough appreciation of children's emotional intelligence. Notice that up to this point, the material consistently chooses silly computer-generated effects over humanity.
Based on John Bellairs' novel, "The House with a Clock in Its Walls" belongs in the pile of generic children's movies to be forgotten over time. Overtly, it tries so hard to offer something fun and memorable, like pumpkins coming to life and the dead rising from the grave. Upon closer inspection, however, it offers no resounding human drama that will remain strong even when all the expensive special and visual effects begin to look dated.