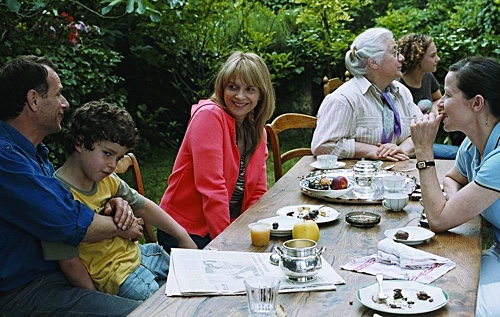 Summer Hours (2008)
★★★★ / ★★★★
Hélène (Edith Scob) invites her three grown children, along with their partners and children, to celebrate her seventy-fifth birthday at the family estate. But that isn't the only reason for the reunion. Hélène is dying and she feels as though she might pass away at any time so she talks to her eldest, Frédéric (Charles Berling), about the preparations she had made as well as some of her wishes. Also, she informs Frédéric that, after she dies, it is up to him, Adrienne (Juliette Binoche), and Jérémie (Jérémie Renier) to determine what should be done to the estate, the extremely valuable paintings inside, and other items that museums and collectors from all over the world wish to have.
"L'heure d'été," written and directed by Olivier Assayas, is a delightful surprise because even though it is about a group of people closing an important chapter in their lives, speckles of positivity and hope radiate amidst the indecisions, resistance, and sadness that the characters go through, from the moment their mother dies until their once regal but intimate home turns into an empty shell ready for its next inhabitants.
Emphasis is placed on the process. I appreciated that the writer-director has the patience to allow a scene to play out without relying on sentimentality to get the script's point across. For instance, as Hélène reveals to Frédéric her wishes and recommendations involving the items in the house, the camera glides along with her movements instead of focusing on her face. She steps toward an area of the room, points to an object, tells some facts about it, gives her opinion, and finally onto the next area. It all feels very business-like but we empathize with her because we can understand that if she had approached the idea of letting go from a mother or matron's perspective rather than that of a realtor, she probably wouldn't have had the strength to finish what she started.
The siblings, too, are required to think and act outside of sentimentality. The material gives us quick but clear ideas about where they are in their lives. Because of their age differences and they live in different parts of the world, it is only natural to expect that they have different wants and needs. Although I expected otherwise, no one is a villain; no one is so unlikable that we wish for them to get the short end of the stick. These are people who are practical enough to look out for themselves and their families but at the same time are sensitive to each other's thoughts and feelings. It would have been easy to push these characters to be at each other's throats, possessed by greed and malice especially since a whole lot of money is involved. Instead, it chooses to pursue a more insightful and quiet avenue. It reminds us that although holding onto a piece of land and keeping rare items is smart from an investment point of view, you are eventually forced to give it all up because no one is allowed to live forever.
Even though I don't own an estate or have a painting I can show off during posh gatherings, I found the story to be relatable. As a person who likes to save his money more than spend it, my dad always asks me, "How is money going to do you any good when you're dead?" This question echoed in my head as I observed at Hélène's aging body, imagined her history (she must've been quite a gal—refined, intelligent, but not without a sense of humor), and measured how strongly she has allowed her attachment to things to have defined her identity. I wanted to ask her, given that she has lived a life of privilege, if she had managed to live her entire life on her own terms. We are given clues to formulate our own answers.