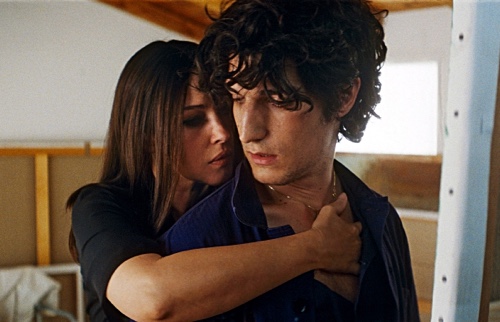 A Burning Hot Summer (2011)
★ / ★★★★
Frédéric (Louis Garrel) crashes his car into a tree on purpose for reasons unknown other than he appears dejected as he speeds through a zig-zag road in the middle of the night. More than a year prior to his suicide attempt, Frédéric is happily married to Angèle (Monica Bellucci), an actress on the verge of receiving her big break. The couple rents a posh apartment in Rome and thinks it would be nice to have Paul (Jérôme Robart) and his girlfriend, Élisabeth (Céline Sallette), both aspiring thespians, stay with them for a couple of weeks. Enamored with such a lavish lifestyle that seems free of earthly worries, Paul quickly grows attached to Frédéric.
Written by Marc Cholodenko, Caroline Deruas-Garrel, and Philippe Garrel, although something seems to be brewing just beneath the topsoil of "Un été brûlant," it is disappointingly anemic in dramatic surges required in order to give the feeling that the time invested by its audience toward the characters' differing levels of lamentation is worthwhile.
The narration is partly to blame because it is used as tool, almost as a crutch, to tell what is happening during a scene right in front of us. Worse, at times it informs us of what is going to happen instead of simply giving us a scene, allowing it to unfold, and trusting us to evaluate the reality, including the emotions behind them, contained in its universe. This is a critical misstep because most effective relationship dramas tend to flourish in showing both important and unimportant events in the lives of the people we are supposed to observe. As a result, the film is consistently confusing and the bond between the characters and us is tenuous at best, if any.
Imagine being a math teacher and you give a student a multi-step equation to solve. On the paper that is handed back, although an answer is present, it is incorrect. No work is shown. As an instructor, it is impossible to determine where exactly the student went wrong. The same principle can be applied to this story because, in a way, we are supposed to look closely and gather clues as to how Frédéric and Angèle's relationship goes sour. We are handed clichés like a person being involved in an extramarital affair but the emotions behind their actions hold very little weight so it takes a great deal of effort to care for them.
I got the impression that the film, like the student, is guessing blindly, reaching in the dark for the pieces of a shattered relationship. The apparent lack of control prevents the picture from becoming more than a mild curiosity. For instance, under Philippe Garrel's direction, Paul being attracted to Frédéric's lifestyle of wealth and privilege should feel more vibrant, almost desperate, reflecting Paul's need to be around his new friend during his stay. There are moments when I speculated about Paul in terms of which element he is really attracted to: the luxury or the man who seems to have it all? Because of the tired and perfunctory distractions in the plot, by the end it can be either way.
"A Burning Hot Summer" fails to focus on envy and jealousy being the driving forces of its subjects. Its tone is so stale at times that I wondered if the camera was simply recording between takes.