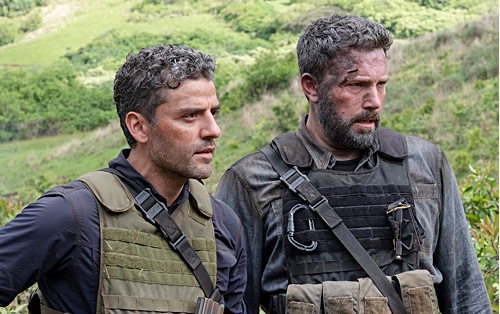 Triple Frontier (2019)
★★★ / ★★★★
Planning and executing a heist in order to steal over seventy-five million dollars from a drug lord in the middle of the Colombian jungle is only about a third of the fun in "Triple Frontier," co-written by Mark Boal and J.C. Chandor, an adrenaline-fueled and entertaining action picture saddled with occasional dialogue regarding guilt and morality. The attempt to humanize the characters, all of whom are former Special Forces, is appreciated, but the work is most enjoyable when guns are armed and the men must depart hurriedly before they are outnumbered and flanked by the enemy.
The star-studded cast is made up of Oscar Isaac, Ben Affleck, Charlie Hunnam, Pedro Pascal, and Garrett Hedlund. Each one is able to bring something special to the table, not relying simply on their looks or celebrity persona to cruise through the material. The screenwriters ensure to communicate why each member of the heist team is critical to the mission. Particularly important is why Santiago (Isaac) is the leader even though he is not the strongest, or smartest, or even the most technologically savvy. More generic action films tend to reduce team leaders as archetypes. Here, we are given a chance to appreciate specific moments when our central protagonist, for instance, is being pragmatic, weak, emotional, empathetic. He holds himself accountable when things go right and, perhaps more importantly, when things go south.
There is a wonderful rapport among the cast which makes us believe that the soldiers have shared a strong history. When they get together, although there is the expected hugging and patting on the back, we are able to capture recognition in their eyes. This is where Chandor's direction comes into play. He gives time for the men acclimate to one another after years of separation instead of simply parading one breathless action piece right after another. It shows that we are in the hands of a patient filmmaker, the helmer of high caliber works—"All is Lost" being one of them.
Shoot 'em up scenes command tension because we care for the soldiers who decide they now want a big piece of the pie after years of hardships yet not having much to show for it. Another reason is that suspense is allowed to build and swell until it can no longer be sustained. An excellent example is the well-planned robbery. There is far too much money to be put in bags but so little time. We can almost hear the clock ticking because every second counts. Every room entered that contains no money feels all the more disappointing. But when finally faced with stacks upon stacks of cash, the characters we think we know change almost instantaneously. It becomes one of those movies where the viewer is compelled to yell instructions at the screen—in a good way.
Another element that separates the work from other action flicks is its use of setting. Instead of relying on action scenes that take place indoors—a house, a building—it takes advantage of the beautiful South American landscapes: jungles, mountains, farms, beaches. In a way, doing so adds a level of thrill because being out in the open space constantly puts our protagonists at a disadvantage. They could be seen from afar and wouldn't know it until a rain of bullets come flying.