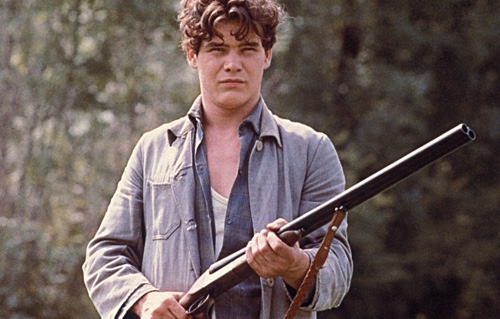 Lacombe, Lucien (1974)
★★★★ / ★★★★
I find Louis Malle's "Lacombe Lucien" to be a particularly brave drama set during 1944 as World War II nears its closing chapters because the material is honest about the number of French people who were actually willing to collaborate with the Nazis. To paint a pretty picture may help to make the viewer feel good, but to tell the truth is patriotic. On the surface, the film parades a series of events as the titular seventeen-year-old country boy joins a French branch of the Gestapo. But look closer and one is bound to recognize the story is a more personal kind; it is about the yearning to belong—somewhere, anywhere, with anyone who would pay even the slightest attention. That group just so happens to be those who hate Jews and are willing to send millions of them to be exterminated.
Lucien Lacombe is portrayed by Pierre Blaise in his first role on film. It is the correct decision to cast a non-actor because, in a way, we must consider the character to be an enigma. You see, more experienced actors tend to employ behavior to sell a thought or an idea—an approach that may not have worked in this role. It is demanded that Lucien be as raw as possible, for the viewer to wonder constantly why he is doing the things he does. Is he even aware that what he is doing is morally wrong? And if he did, does he care? Pay attention to how he kills animals like chicken and rabbits. The look in his eyes does not change as he kills people. The only difference is how he is dressed for the occasion.
Look closely during captured moments when Blaise is simply being himself, perhaps hanging out on set while waiting for his cue to utter lines provided on the script. Malle is wise to include the in-between moments because it is a way to capture's one's soul and then manipulate it through the scope of the story being told. But because Malle is a master at creating human portraits, he does not turn Lucien into a monster. We despise the protagonist's actions but not the protagonist himself. Without Malle's careful, intelligent, and humanistic direction, the work could have been reduced to a story of a stereotype.
The picture is beautifully photographed, particularly scenes shot outdoors. The grassy villages where animals roam and the majority of people work with their hands put us into a particular headspace—serenity and freedom—before Lucien joins the German police. Images shot indoors, too, are interesting but in a different way. Notice the high ceilings of the Gestapo headquarters, the well-decorated rooms, the expensive figurines and paintings. And yet—listen to what the conversations are composed of: trivialities, hatred, drunken babbling. Interactions are cold, unsafe, driven by the next opportunity to wield power and murder.
Unlike Malle's other works ("Murmur of the Heart," "My Dinner with Andre," "Au revoir les enfants"), "Lacombe Lucien" did not move me emotionally. But perhaps that isn't the point. So many movies with stories that take place during World War II are designed to get an emotional reaction from the audience. This one, however, is impersonal in that it appears to only be interested in showing reality, specifically one person's reality, Lucien's desperation to belong. We wish to understand him rather than to empathize with him. After all, how could we empathize with somebody who is so ignorant that he hasn't got the slightest awareness—curiosity, even—of what's being done to the Jews? For him, the Jews, being stripped from their homes and families, are merely going on a train ride.