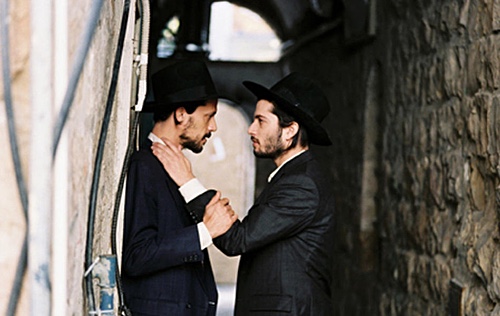 Eyes Wide Open (2009)
★★★ / ★★★★
After his father dies, an Orthodox Jewish man named Aaron (Zohar Shtrauss) takes over and reopens his father's butcher shop. From his demeanor, he has not yet completely come to terms with his father's transition. There is a languidness and sadness behind every movement he executes. He consistently looks down as to avoid contact of any sort. When a customer comes into the shop, he looks up and engages slightly to maintain professionalism. Still, life must go on for he has a family to look after.
Based on the screenplay by Merav Doster, "Einayim Petukhoth" is not about a quickly evolving plot. It likes to take its time to show how a specific Jewish community in Jerusalem lives, thinks, and deals with problems—conflicts in direct opposition to the word of God. There is violence—physical, in the looks given, through rumors passed from one person to another, and the unsaid—and not once does the picture offer an easy solution.
Aaron hiring Ezri (Ran Danker) to work as an apprentice in the butcher shop drives the plot. While the former is highly respected in the community, the latter is not only a stranger from out of town but it appears as though he has a history: being kicked out of an educational institution for having performed "too many good deeds," a euphemism for being a homosexual. But the movie is not about sex or love. It is about repression.
The religious hypocrisy is unveiled in one of the key scenes involving a leader who lectures his class about how God considers people who abstain as sinners. For example, a man who does not drink wine when it is available is a sinner for God does not want man to suffer. But the explanation does not make much sense to Aaron. He argues that abstaining from immediate pleasure ought to prove one's devotion to God. Aaron, like new apprentice, is a homosexual. His act of not acting on his homosexual needs and wants is a challenge to be endured. He believes his sacrifice will bring him closer to God.
I watched the picture in rapt curiosity. The subject matter is compelling because in the center lies a man who is so willing bury who he is that he prevents himself from living. He has a beautiful family but notice that he interacts with the children only occasionally. His wife (Rivka Fleischman) getting attention—except compliments for her cooking—is rarer still. Later in the picture, Aaron admits to a rabbi (Isaac Sharry) that prior to Ezri's arrival, he felt dead inside. I admired that the film does not result to the butcher and his apprentice experiencing complete happiness via a ridiculous montage. The more touching moments are very brief, hidden from the world, and often shared in silence. The suffocating influence of their conservative community never goes away.
At the end of "Eyes Wide Open," directed by Haim Tabakman, we wonder about Aaron's future as a father and husband with a responsibility to his family, as a man who loves God, and as a human being who is aware that he is not happy. How long will he be able to keep it up? I stared intently at the water in the final shot. The image fades to black.