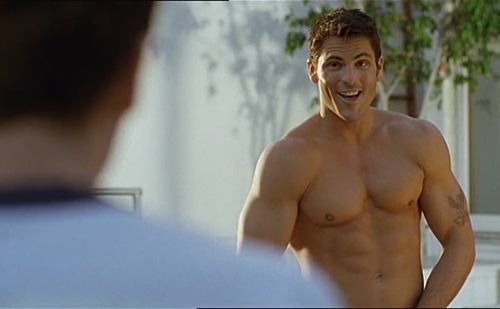 The Fluffer (2001)
★ / ★★★★
When I watch a movie that takes a look behind the scenes of the adult entertainment industry, I expect to come out of it feeling a little dirty. But I expect to receive a little bit of insight, too, whether it is about the businessmen—or businesswomen—who control what makes it into the final product or about the psychology of performers who are required to shed their inhibitions and clothing in front of the crew and unblinking cameras. Otherwise, if these elements are largely absent, what is the point of taking us into that world? If it is solely for the sake of sleaze, well, then we might be better off watching pornography.
It is curiosity why "The Fluffer," directed by Richard Glatzer and Wash Westmoreland, was made in the first place. It is toothless in satire, the overt comedy is seldom funny, and the characters seem to be skeletal constructs of real people in the industry.
Sean (Michael Cunio) has recently moved to Los Angeles with the hopes of making into Hollywood's film business. While waiting to snag a job, he spends his time catching up on classic movies by renting tapes from a video store. His intention is to check out Orson Welles' "Citizen Kane," but he when he opens the case in his apartment, the tape is labeled "Citizen Cum." He decides to put it into the VCR anyway. One of its lead stars is Johnny Rebel (Scott Gurney) who captures Sean's interest immediately. While he waits for his big break, he decides it will be a good idea to work as a cameraman for the pornographic company that consistently hires his latest obsession.
One part of the problem is the casting. While Cunio is a capable actor, perhaps the best in the film, he is too good-looking and appears too intelligent to pass as someone who cannot get a job—any job—outside of porn. It would have been more believable if an actor that is cast either looks like a regular Joe but clever or handsome but comes off dumber than a pile of bricks. An actor who commands both is neither as interesting nor seems to fit the role of Sean as someone who lacks one or both qualities.
The older gentlemen (Richard Riehle, Tim Bagley, Taylor Negron, Robert Walden) in charge of who gets cast, where the sex scene should take place, and what ought to make it through the editing room do not get enough screen time. They are also underwritten. They are reduced to playing bumbling and arguing man-children which is frustrating because they obviously would not have had their positions if they were not smart, knowledgeable, hardworking, likable or cutthroat. These men should have been key to Sean's education about the film business—whether he decides to stay working for the sex industry, somehow makes it into Hollywood, or leave his dream altogether and settle for something else.
Instead, the picture is mired in a one-sided attraction between Sean and Johnny. It is without focus, only to be blurred further by subplots—one about a pregnancy, the other about a potential boyfriend for the protagonist—that are as dramatic as they are without entertainment value.
All the while, my mind keeps going back to Silver (Adina Porter), a black woman who happens to be a lesbian working in gay porn. Porter demands attention because her delivery of lines has a strength, hinting that her character is jaded but clinging onto the idea that staying at her job is practical for monetary purposes. I wanted to know more about her because the essence of her story is relatable to a lot of people.
Based on the screenplay by Wash Westmoreland, "The Fluffer," the person who gives a performer fellatio in order to keep his penis erect during filming, goes around in circles. It takes place somewhere that should be interesting but it fails to do anything with it. We walk away from it, taking away nothing we don't already know.