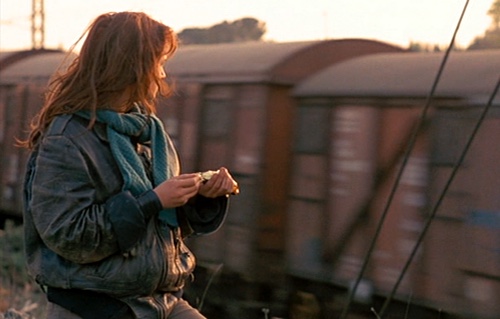 Vagabond (1985)
★★★★ / ★★★★
Right from the opening frame of "Vagabond," there is convincing puissance that writer-director Agnès Varda approaches her project from the perspective of a photographer—one that is interested in facts and natural beauty but less so when it comes to the reason, or reasons, why such a thing is or was. This is most appropriate because the person we come to follow remains an enigma even though we are provided colorful impressions of her through the various personalities she comes across. Some of them kind, a select few cruel, and the majority, unsurprisingly, indifferent. Even when the subject's frozen corpse is found in a ditch, it is impersonal, from how the investigation is conducted to how the body is lifted and carried away. It is an effective commentary, should one choose to see it this way, on how we, as a society, treat the homeless like trash.
Within ten minutes we learn that the corpse's name was Mona. She is portrayed with magnetic energy by Sandrine Bonnaire and it is smart to play her as an individual who says more with silence, how she behaves, the manner in which she stares off into the distance when she is surrounded by literal walls than when she is exchanging words with another character. She may not be entirely likable but she is fascinating. We get the impression that Mona employs lies, especially during car rides, when another wishes to fish into her history or her plans for the future. Mona is someone who lives in the moment—for better or worse—and it is apparent she values her freedom above all else. But at what cost? Through beautiful images of the countryside, we are given opportunities to ponder over what it means to be free from her perspective including our own.
A hitchhiker, a camper, a lazy bum, a thief, a whore, a good lay—these are some of the words used or insinuated by people with whom Mona crosses paths. Adopting almost a documentary style, these folks look directly to camera and describe their initial thoughts of her, how their feelings changed (if they did), and whether they still think about her. It is underlined that these strangers are never provided the fact that Mona is now dead. It is a masterstroke because having done so might have adulterated such strong, polarizing opinions. It is clear that Varda values honesty above all.
One that stuck with me was a man who noticed Mona sitting around a fire but chose not to speak to her. He admits that, for some reason, he regrets not doing so. He recalls that she must have been cold because it is the dead of winter. It took me by surprise by how much I was moved by two people not interacting, especially given the context of how movies tend to move or entertain us through personalities touching each other. Varda captures this man's regret with such clarity even though the interview takes only about five to ten seconds. Varda is that efficient when it comes to what she wants to communicate that every moment can feel like encountering a tidal wave.
I think the picture's goal is to make us look at ourselves and how we treat others. Although Mona's fate could have been changed—had a university professor put more thought into her decisions, or had an elitist agronomist relayed important information to somebody who desperately wanted to find Mona, or had Mona herself chosen to stay in the property of a former vagabond who kindly offered to give her land in exchange for a bit of help around the farm—the work is not interested in placing blame. It is simply interested in showing what was and what we choose to learn from it.