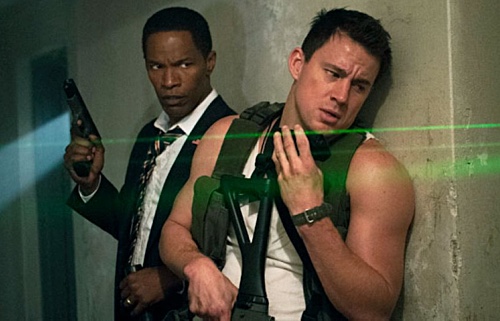 White House Down (2013)
★★★ / ★★★★
Cale (Channing Tatum) snags an interview for a chance to become a part of the Secret Service but it does not go well. His record reflects that he has trouble committing to projects and seeing them through. It is also the day in which he and his daughter plan to take a tour of the White House. Emily (Joey King) is passionate about politics and it is exactly what they need to have the opportunity to bond especially since Cale missed her talent show performance. But something else is going on. Men disguised as blue collar workers surreptitiously gather inside the White House movie theater and await for a bomb to go off.
"White House Down," directed by Roland Emmerich, is not an intellectual movie by any means but it is undeniably entertaining. Because the screenplay is willing to be goofy during the most unexpected moments as ludicrous events occur inside and around the White House, it is enthralling in its own way. More than once it proves that a well-placed attempt at a joke or a clever line is an effective distraction from the obvious clichés it embraces. Its goal is to deliver an escapist popcorn flick and it has the energy to match.
What I did not enjoy is the shallow earnestness of President Sawyer (Jamie Foxx). One would think that since an ace performer like Foxx is at the helm, the character would have been written, or re-written, with more complexity from the moment we meet him. Is the president delivering syrupy speeches about America's role in the war in the Middle East supposed to be a jab at liberals? If so, it is difficult to understand if it is supposed to be digested in that way because we do not know a thing about the character in order to make the necessary assumptions. Instead, he simply comes off silly—almost spineless—and I wondered how he got to be president in the first place. Sawyer is no Barack Obama.
The material picks up from the first explosion. The action sequences employ familiar quick cuts to evoke a sense of urgency but they are not done in such a way that it is difficult to tell what is going on exactly. There is a natural flow to the editing. Scenes that unfold in one scene offer various angles with accompanying cuts so we get a sense of place despite the flying bullets, pieces of wood, and broken glass. In addition, scenes that take place between two groups communicating via telephone are supported by dialogue that sounds urgent. The logic may not always connect but he flow to the editing is successful in creating the illusion that the thought processes are practical.
The villains actually work as a team for the most part. Though members of the group have different motivations, it is nice to see that the leader does not simply wait in a room and glare at his hostages while his henchmen do all the heavy lifting. Jason Clarke stands out as the lead underling named Stenz. Since we are given time to hate him for bit, the eventual hand-to-hand combat with the lead character is well-earned.
Though the two share a similar plot, "White House Down" exudes more joy than Antoine Fuqua's "Olympus Has Fallen." The latter offers a few strong scenes but they are scattered among poorly-lit padding. With this picture, however, the energy is consistently positive. It invites us to have fun but at the same time it is not above having us poke fun at it.