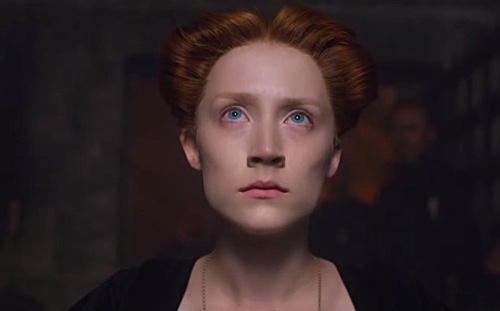 Mary Queen of Scots (2018)
★★★ / ★★★★
It is true that a film can be savagely historically inaccurate but still remain entertaining. A good example is "Mary Queen of Scots," based on the book "Queen of Scots: The True Life of Mary Stuart" by John Guy and written for the screen by Beau Willimon, proud—as it should be—of its endless parade of beautiful imagery despite monarchs becoming increasingly miserable throughout its duration. Those seeking for a history lesson, or reminder, should opt to sit through a documentary instead because the picture wishes to present political intrigue first and facts second. And there is nothing wrong with that.
The work is propelled by strong performances: Saoirse Ronan as the titular character who returns to Scotland following her husbands death whose goal, she claims, is to bring peace to her home country. At the same time she hopes to reclaim the throne from her cousin, Queen Elizabeth I, ruler of England and Ireland. The latter is played by Margot Robbie and it is quite fascinating that although she is on screen far less than her counterpart, she nails every scene with verve and bravado—as expected from consummate performer. On the other hand, Ronan's face is nearly in every scene but her overall sense of being is so luminous that I could not get enough of it. She is so regal not just in the way she stands, or walks, or talks but also in the way she breathes and pauses, how she looks at another depending on the gravity of a scene.
The premise hints at a war between Mary and Elizabeth, but I enjoyed that the material is willing to go in surprising directions. Although it leans toward Mary's camp—appropriate given that the story is about her beauty, youth, bravery, and fierce intelligence—Elizabeth is not painted as a monster. Instead, it makes a point that she, like Mary, is a tragic figure. She is called a queen but in many ways she is a prisoner of her kingdom, her people, and her own expectations. We see Mary and also Elizabeth but the latter is perceived through the scope of a broken mirror. It is amazing that the subjects appear on screen only once but a good amount of drama is excavated nonetheless.
I found it curious that not once did I feel sorry the two women—which I think may be one of the points that director Josie Rourke wishes to come across. Melodrama is kept at a minimum; when sad occurrences unfold, the score, for the most part, is not there to manipulate our emotions. There is an air of detachment, a matter-of-fact telling of what happened. I do think, however, that we are supposed to appreciate the cousins' desperation, whether it be to prove themselves worthy of the power they are handed (or claimed) despite and because of their gender.
Notice the more uncomfortable moments when men of lower rank address their queen as if she were a common whore. These are moments when we are jolted into paying attention. At times the women's restraint is admirable; we become convinced that they have had considerable experience in leading their nations prior to the timeline of this particular story.
"Mary Queen of Scots" requires patience and an open mind. Its pacing is deliberately slow but effective—until the final fifteen to twenty minutes when it rushes to finish line for no compelling reason other than to meet the two-hour mark. I would have preferred a work closer to two-and-a-half or perhaps even three hours as long as it is able to maintain its rhythm and momentum. When unhurried, I was most invested in its world of political chess.