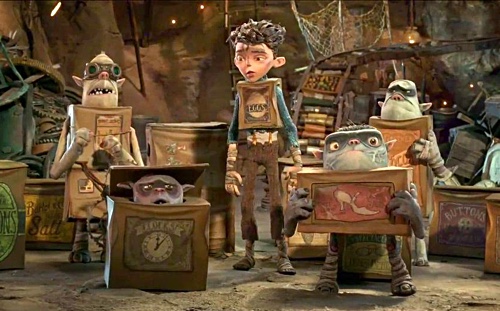 The Boxtrolls (2014)
★★★ / ★★★★
Right after the kidnapping of the Trubshaw baby, the leader of Cheesebridge, Lord Portley-Rind (voiced by Jared Harris), makes a deal with a social-climbing exterminator, Archibald Snatcher (Ben Kingsley), to rid the town of the so-called boxtrolls, pests who come out of hiding from underground to steal trash, valuables, and other knickknacks. As a reward, Snatcher would receive a white hat—a symbol of privilege, prestige, and position—as well as the most delectable types of cheese, strictly reserved for the upperclass. The hunt for the boxtrolls is seemingly coming to a close a decade after the baby was taken from his father.
"The Boxtrolls," based on "Here Be Monsters!" by Alan Snow, is an entertaining animated picture that is willing to take risks. Be warned, however, that it is not for all children because the characters are not what one might consider to be typically pretty or cute or beautiful. This is exactly the reason why I enjoyed it: We are asked to look beyond the grotesque faces—whether the character is a human or a troll—and consider the story for what it is or what it aspires to be. There are claims that the material makes more than a handful of references to Nazi Germany and the Holocaust. There is evidence behind these claims, but it does not mean that it cannot be enjoyed purely as a movie about a boy named Eggs (Isaac Hempstead Wright) who grew up around trolls.
The villain is surprisingly effective. Although what Snatcher does is evil, there are a few instances where the screenplay allows us to feel his pain and so we come to understand what drives his actions. One of the most memorable scenes involves the character eating cheese in front of his henchmen (Nick Frost, Richard Ayaoade, Tracy Morgan) despite the fact that he is extremely allergic to it. His desperation to belong in a world that does not want him is communicated via grotesque humor of body parts swelling up. I loved that the scene takes its time to unfold, almost on a Hitchcock-ian level of patience.
A bit of development between Eggs and Winnie (Elle Fanning), Lord Portley-Rind's daughter, might have improved the picture. We appreciate that they share a partnership because they aim toward a common goal eventually, but we never get the sense that they become friends over the course of the story. I did, however, enjoy that Winnie is so fascinated by the idea of blood and guts given that she grew up around horror stories involving boxtrolls and what they supposedly do to children. It is a welcome change from young female animated characters who wear pretty clothes and yearning for a boy or man to regale her.
Snatcher's henchman, too, do have distinct, memorable personalities. Usually, henchmen are only supposed to do what they are told. Here, they have a few self-aware lines about the duality of good and evil, whether their actions can still be considered to be heroic. Although their work starts off with the premise of saving the townsfolk, especially infants and children, from being taken by the creatures in the sewers, over time they realize that maybe the trolls they are hunting are not so bad, that maybe these creatures are simply misunderstood.
Directed by Graham Annable and Anthony Stacchi, "The Boxtrolls" is unusual and proud of it. I admired that the writers, Irena Brignull and Adam Pava, and filmmakers choose not to compromise their vision in order to create a more mainstream, typically sweet and pretty animated film. I hope the stop-motion animation studio Laika keeps making movies like this—an alternative choice from Disney and Pixar efforts both in look and feel of their wonderful works.