The Memory of a Killer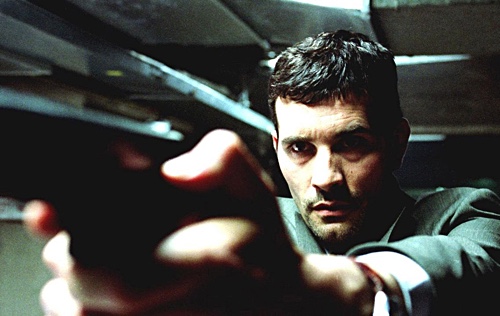 Memory of a Killer, The (2003)
★★★ / ★★★★
With each passing scene it becomes all the more apparent that "The Alzheimer Case" is based on a novel because it is more interested in following an investigation than it is at displaying highly choreographed action pieces. The elements are certainly there to deliver the latter: honest cops who wish to know and expose the truth so those directly responsible would end up behind bars, a killer who is quickly losing grip of reality, corrupt wealthy men who would do anything to avoid prison time, and supposed lawmen who are bought and paid for. These pave the way for numerous twists and turns to create an entertaining action picture through push and pull from various motivations and yet screenwriters Carl Joos and Erik Van Looy abstain.
The work is fresh because there is constant believability to it. When guns are pointed at them either from afar or point-blank, for instance, Detectives Vincke (Koen De Bouw) and Verstuyft (Werner De Smedt) exhibit fear that is almost palpable. Because their response is relatable, we care about whether they would make it out of an especially tricky situation. In intelligent thrillers, when partners are established to share a close bond, it is predictable that one of them is likely to end up fighting for his life in a hospital bed. The material seems to be aware of our expectations, not just in who gets hurt or who gets to go on but also in the dynamics of the partnership. And so the writers find smart ways to subvert them. De Bouwe and De Smedt share solid chemistry; we are shown that their characters are strong together and apart.
The duo is in pursuit of a killer who suffers from Alzheimer's disease. The irony is that the killer is not the central antagonist. The villains are those involved in covering up child prostitution. Ledda is played with soulfulness by Jan Decleir who exudes charisma and experience in just about every frame. The camera fixates on his face, he looks directly at it at times and dares us to keep staring. Right from his first victim within the scope of this story, we believe that that he is a professional, highly efficient, and resourceful. He follows his own moral code. It is most frustrating, however, that the moments when Ledda experiences sudden disorienting episodes, his confused memories are presented in a way that comes across as television-like: numerous rapid cuts mixed with some slow motion on top of a greenish-blue filter. It looks ugly and cheap—a shame because the rest of the picture is elevated.
I found it neat that the picture intends to keep the viewers in the fog when it comes to how various figures are connected. We know about the central crime. Corpses begin pile up. Facts are gathered and analyzed. But the connective tissues aren't there initially. In a way, the film unfolds in a manner by which we, too, become a part of the investigation team. The difference between the detectives and ourselves is that we get a glimpse of what the perpetrators are up to. Still, despite the accruing tension, the work is not without a sense of humor. For example, the criminals, even though they are wealthy and well-connected, are often shown as pathetic and desperate when cornered, that they behave like rats when their hiding spots have been discovered.
Sharp and occasionally suspenseful, "The Memory of a Killer" knows how to entertain without insulting the viewer's intelligence. Human drama is at the forefront and chases just so happen to occur from time to time. It dares to engage in a way that many Hollywood pictures are unwilling: sometimes not pulling the trigger reveals the more interesting possibilities.